Hello again everyone. As we said on Monday we are taking a month off to work on pin-ups for the upcoming con season. Today we have for you Adam's love note to the Green Lantern Corps. As most of you already well know, Adam has been a huge GL fan since we was a wee lad, and he began reading the title when it was the Green Lantern Corps - a group of Lanterns living in a house in California. It was almost like Real World: GLC, but it was so much fun. Probably for that reason, Adam has always been a fan of Green Lanterns as a group rather than any single person (though Kyle is, obviously, his easy favorite).
Below is the rough for the expansive side project, begun in conceptual phases last summer. It's got everybody that he loved, some designs slightly tweaked because he's an artist and he wanted to, some minor swaps (Arisia as a young girl rather than in her ring-gifted adult body), the top row showing villains on one side, Guardians on the other. More to come on this soon as it develops. It's coming along pretty well, but as you might guess from its size it's going to take a bit to be finished.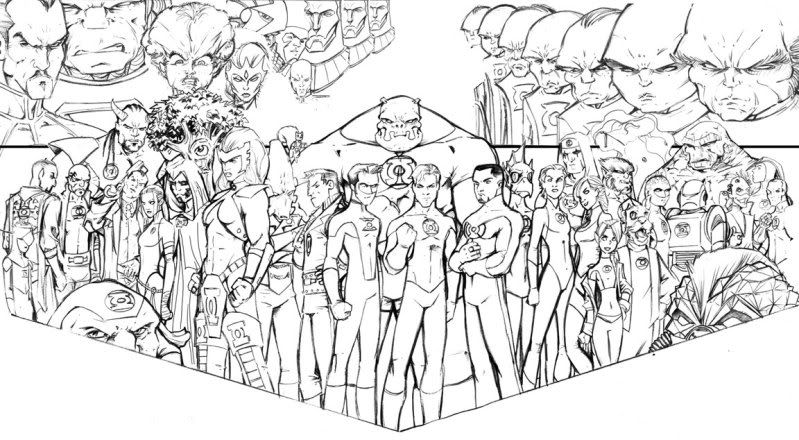 --Thinking About Comics--
We were talking the other day amongst ourselves about the best way to talk about The Uniques to people who don't know the comic. Pitching a book to a potential buyer (or publisher) is a dicey proposition, and it can be hard with a book like Uniques that's about so many things to find a way to encapsulate it all in one quick, easily understood, immediately gripping sentence.
Talking about it got us thinking about the kind of book Uniques is, and other books we've read that reminded us about what we've been trying to accomplish, and that got us thinking about a little book we discovered a year ago called The Sentinels.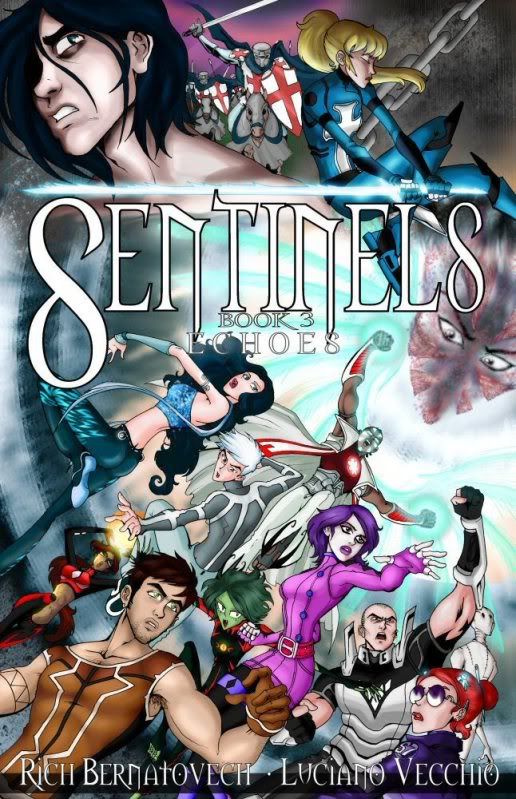 Cover to the third volume of Sentinels

At last year's MegaCon, we had the good fortune to meet two of the most fun people we got to know that whole con season - Rich Bernatovech and Jamie Fey. Rich is a writer who had been working in the Indy Comic world for a while, and Jamie was an artist just starting work on a project with Rich called Neverminds (can't wait to see that one finished!). Comfort knew Jamie from Deviant Art and getting to know Rich was a real blessing for us because he had gone through a lot of what we were about to experience with The Uniques when he had started releasing his own self-published superhero book Sentinels.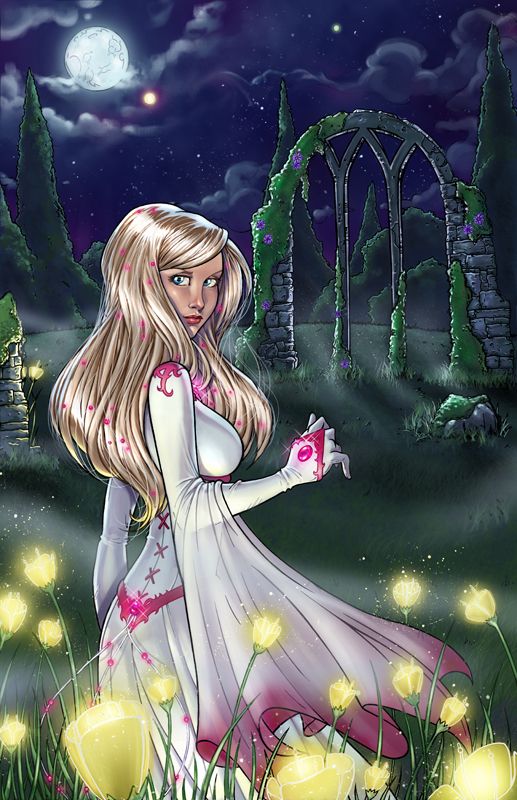 One of the first images of Neverminds. With any luck the book (as in the whole graphic novel) should be out soon as Jamie works to keep the art looking a-mazing!

While there, we picked up the full run of Sentinels, and later as we sat waiting for our flight home we cracked open the first trade. It was a Superhero story, so we were already interested (we can't help ourselves - we love costumes and powers) - but it also had a multigenerational story about both the family you're born with and the family you build through friendships and coming together as people. It had all the staples of classic superhero comics-- alien abduction, demons, secret agencies and ancient conspiracies; but it used these trappings as a way of telling a deeper story about people and our pasts and how, though we may be through with that past, it isn't through with us.
Premise aside, the thing we liked most about Sentinels was its balls! Bernatovech doesn't pull any punches - the book gets dark and it gets into very mature themes, but never out of a desire for artificial shock value. The story goes where it needs to go, and isn't afraid to sacrifice any and all characters if it needs to in order to be honest with how the ultimate conclusion of the tale must go. Yes, Sentinels has a beginning and an ending, and the characters grow, mature and change. You can see why we were so excited by all this, can't you?
And what's more, from a creator's standpoint we really enjoyed watching Bernatovech and his artist, Luciano Vecchio, gaining more confidence and skill in their storytelling as the series progressed. While reading a story of young heroes maturing and discovering their voices, we were watching writer and artist both growing and discovering themselves as well. By the end of the fourth and final volume, you are reading a tight, taut narrative told by two skilled craftsmen, and that is a rewarding experience in and of itself.
So while we're working on pin-ups, posters, and compiling Uniques TPB Vol. 2 for release, if you're itching for some Indy superhero stories about growth and change, we highly recommend Sentinels. It's just good reading. Head to their website, SentinelsOnline.com and order direct from the source. It's always the best way to do it!
See you soon-
Adam & Comfort