Wow, we've been moving along, haven't we? We're almost completely caught up with our convention blogging just in time to leave for the Baltimore Comic Con. It don't stop, folks! Well… it does, it's just… you know what? On with the show. It's time to talk L.A. and the grand Anime Expo. Let's roll, sweet things!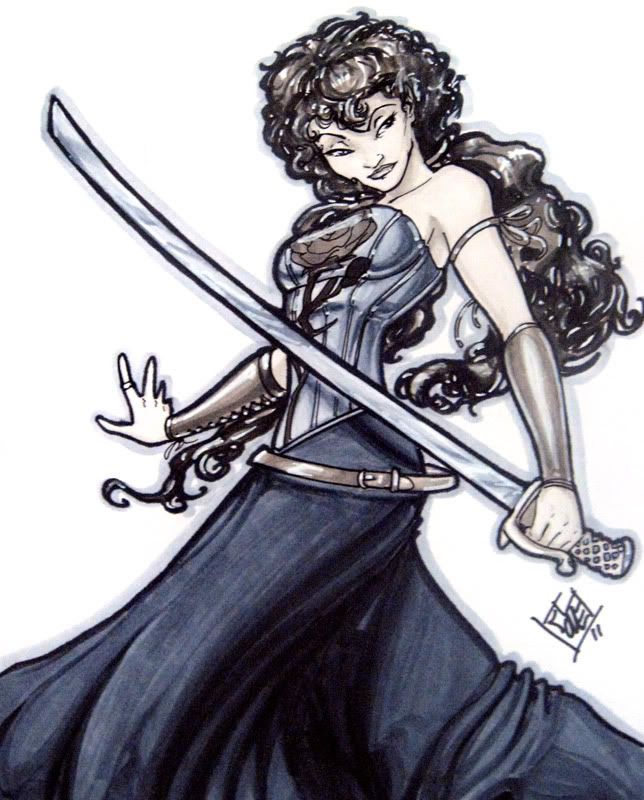 OC by Comfort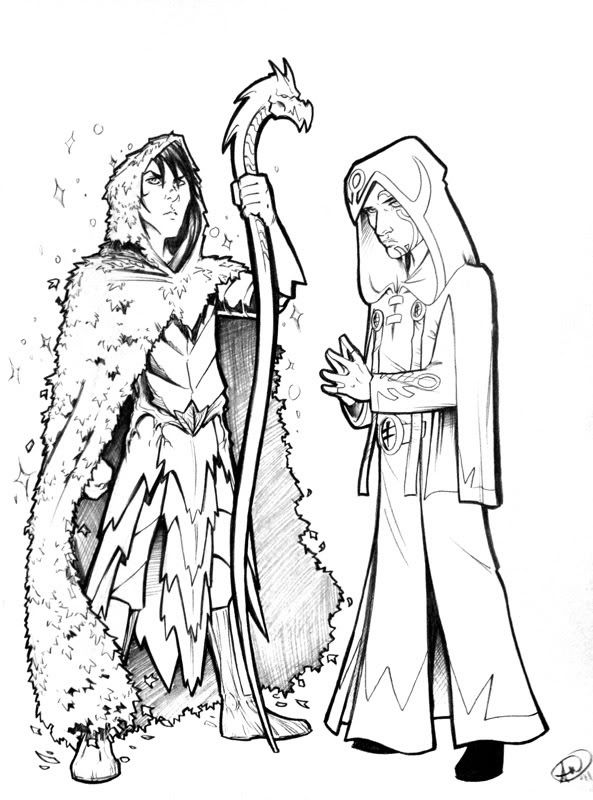 MMO OCs by Adam

So this show gave us some stress. First, it's Los Angeles and we were flying. Doing big cities is always stressful when we don't have a car of our own to get around in, and flying anywhere raises the stress bar significantly because so much can go wrong that you have no control over. This time around, our carry-on wheeled suitcase broke such that the extendy handle wouldn't retract anymore. Wonderful. And cabs in L.A.? Yeah. Wonderful. Oy.

Anyway, after an insanely early flight and a long cab ride, we made it to our hotel in one piece with all our gear present and accounted for. This is where the stress ends and the good stuff begins, because we were in an awesome hotel and staying with two very dear friends, Josh Finney and Kat Rocha. The hotel was the Millenium Biltmore, and we'll tell you – if you love architecture, you'd love this hotel. It was filled with the feeling of "old L.A." We felt like we were in L.A. Confidential or something. The whole place was marble and soaring columns and relief sculpture and gold embossing and painted ceilings; it was amazing to walk around and see it all. Easily the coolest hotel we've ever stayed in.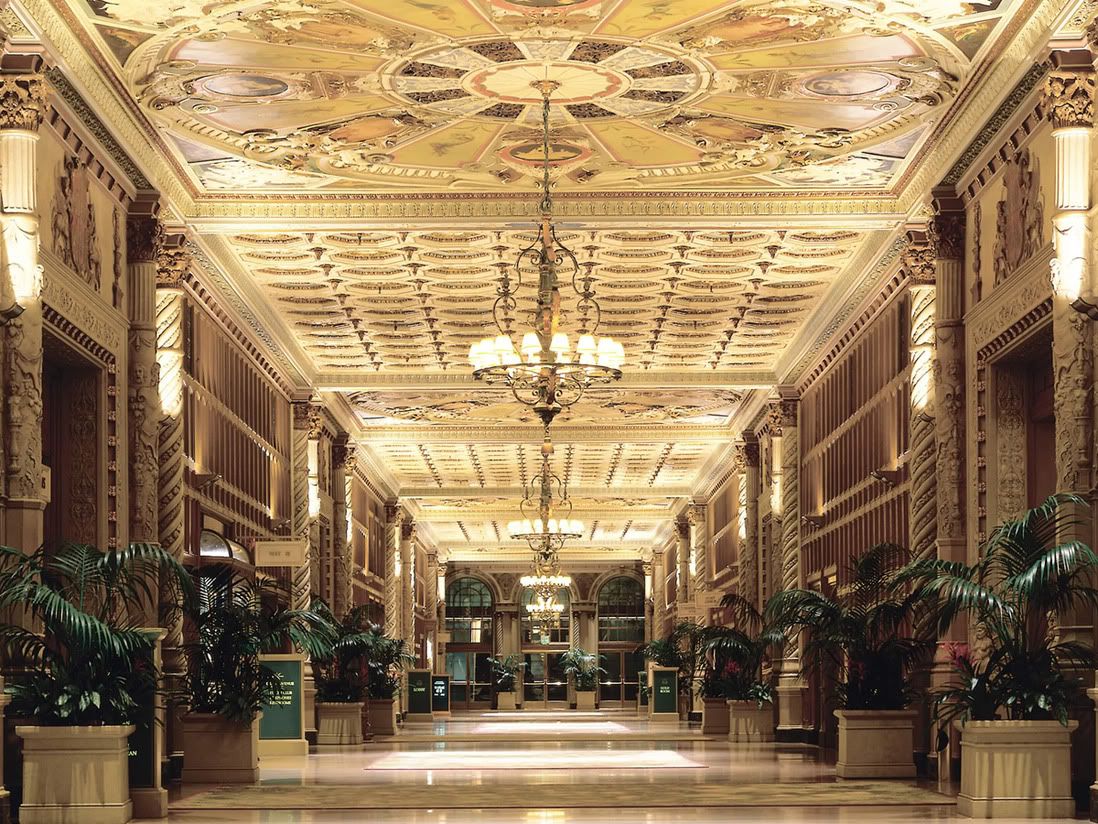 The Millenium Biltmore hotel.

Josh and Kat got in a bit after us, but we mostly slept. The time change for us was three hours, so we spent the whole weekend feeling like it was much later than it was for everybody else. When they got in, we all spent a minute catching up and enjoying being together again. As our "West Coast Friends" we don't get to see them very much and it was just nice to be in their company again. We all trucked down to the convention center and got our badges and stuff but couldn't set up until Friday morning. That was fine, we just went walking to find some food instead and spent the rest of the night relaxing and having fun. We've said it before and we'll say it again – sometimes you meet friends and even though you've only known them a brief time, it seems like you've known each other forever. That's the kind of fun we have with Josh and Kat.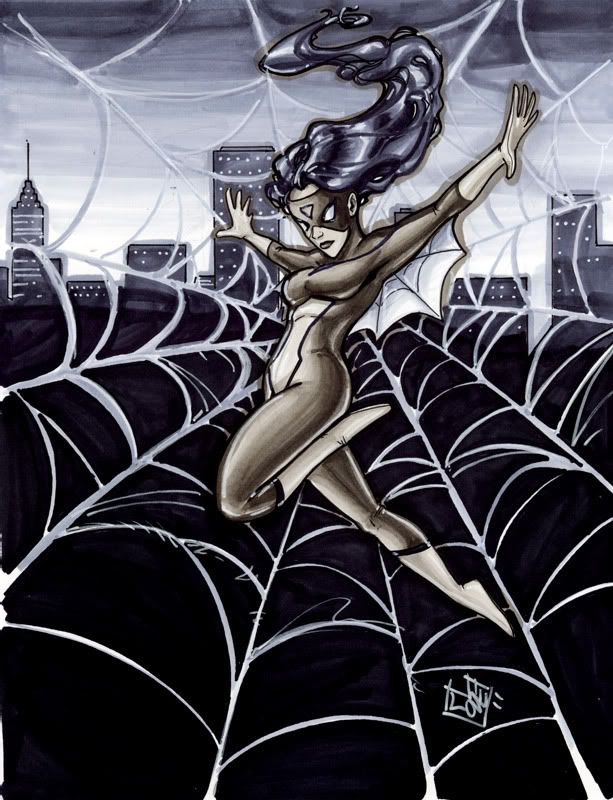 Spider-Woman by Comfort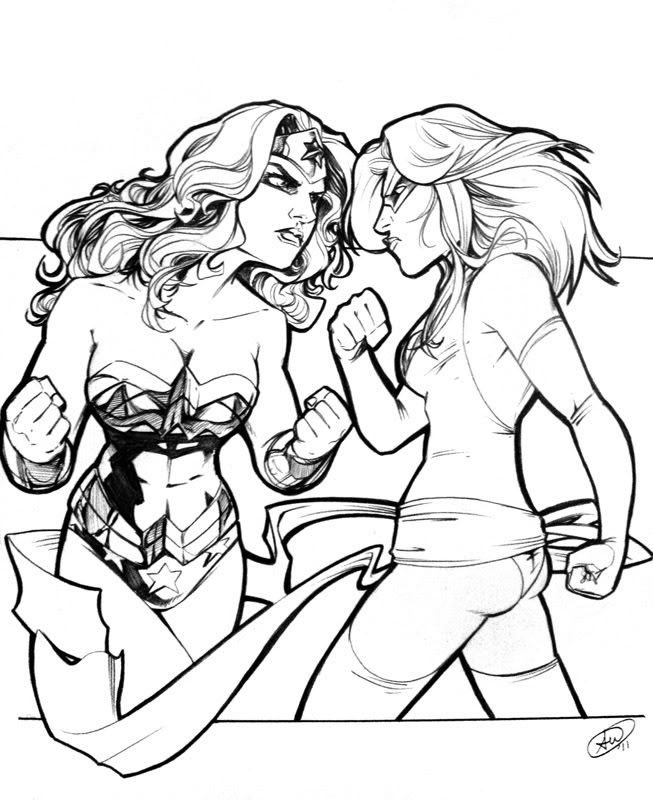 Wonder Woman vs. Ms. Marvel by Adam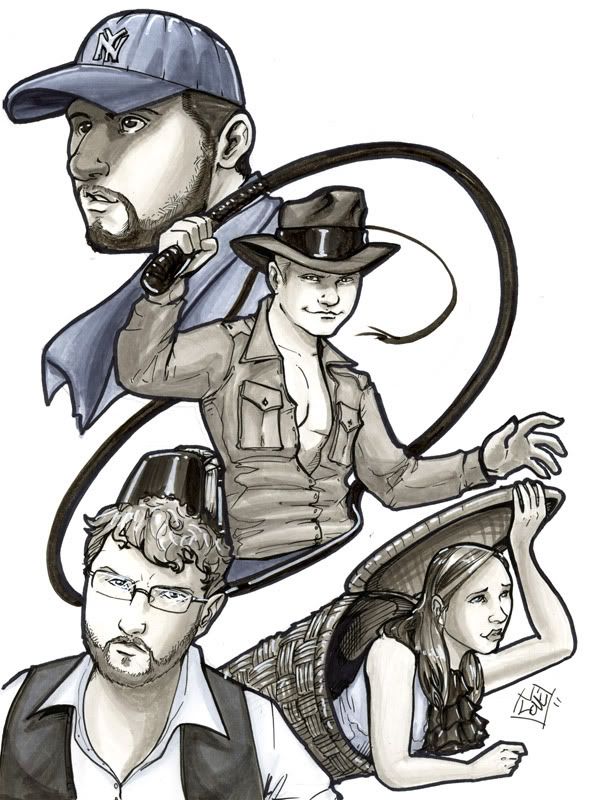 Portraits in an Indiana Jones universe by Comfort & Adam

Friday came and we found that we had amazing spots in the artist alley. Unlike many of the Anime cons we do, Anime Expo had a combined artist alley/dealer area, meaning we artists were right across from the people selling manga and statues and costumes and toys and such. This is exactly the way they do it at comic cons, so it wasn't unusual to us. What was unusual was that we got a spot right at the end of one of the dealer aisles. You walked down the aisle and then BAM! There we were, smiling and looking awesome. It was a great spot, and we were psyched for the weekend to roll.

So the show began and we were doing pretty well. It was a Friday and we'd never been at this show before so we didn't have an established audience, but we were feeling pretty alright. We'll be honest, though – we'd kind of been expecting our heads to a'splode. Anime Expo had been billed as the biggest anime con in America. The hype around it was huge, and having done Otakon (the so-called #2 show), we had pretty big expectations. Maybe unfair expectations, but it wasn't us who'd gone around hyping it up. The first year we were at Otakon, we knew from day one that it was a very different kind of show. Anime Expo on a Friday was… pretty much like any show on a Friday. We spent most of Friday working on commissions we'd backlogged from other shows or online (which are showcased here as well, since... well, we did them almost entirely at this show anyway, so why not?).

But we were not deterred! We had a fun time, amassed a couple commissions, and were ready to go again the next day. Saturday is usually the big day of most shows, and it was definitely a big day. Another way in which A.X. is a different show than many of its peers in the anime community is that it's kind of short. Which is to say, it runs from 10ish-6pm most days. These are typical hours for a comic con, but crazy-short for an anime show. So even though business was good Saturday, the shorter hours capped it off in the middle of the day. Still, we were feeling better. We'd gotten a lot more commissions and sold a lot more material, including meeting a girl who quickly became our "Favorite Fan of the Weekend" for her bubbly, fun personality and genuine inquisitiveness. It was interesting talking with her because she missed so many of our references in conversation that we wound up bogging her down with lists of movies to see, albums to listen to, and comics to read. We do that from time to time. It's called knowledge, punks! GET SUM!

Saturday night we went out with a huge crowd of people that got pared down to just a big crowd by the time we sat down to eat. California Pizza is apparently a pretty widespread chain, but we'd never been to one before and, come on—a tortilla pizza? Awesome. We spent most of the night talking with a magazine writer who mostly covered music and was a huge metal-head. We also got to meet Cari Corene, creator of the super-interesting Door series. The first book of which –inspiringly entitled 'Toilet Genie' – is currently running through the Door website. Check it! A pug turns into a real girl! And there's a genie in a toilet! And great art!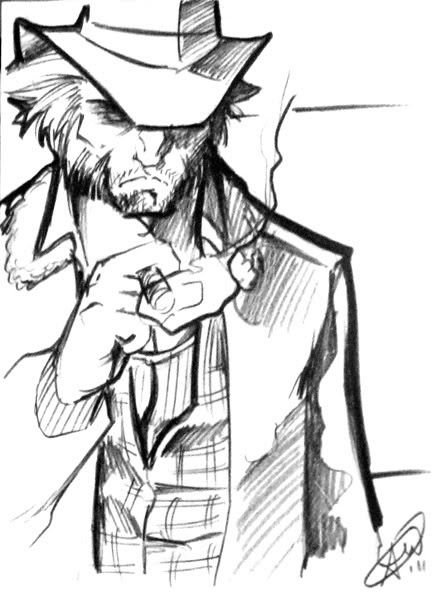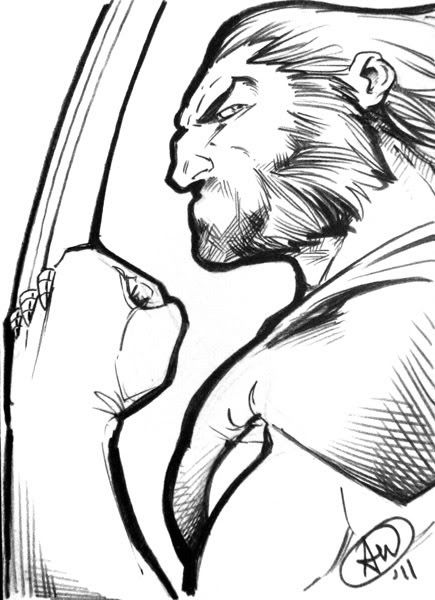 Wolverine Sketch-Cards by Adam


Portrait as a coon-tailed NINJA!!! by Comfort

Anyway, it was a good night. We had a lot of fun, ate some crazy food, and just generally caroused. Then it was back to the hotel for more sketching and, eventually, sleep. Though we were in bed by 12-1ish generally, fear not faithful readers – that was 3-4am on Michigan time. Our reputation for staying up too late to finish commissions remains intact.

Sunday was another good day, but only third out of four. A.X. is a 4-day show, so you never know what to expect of day three. But it was good and we left feeling pretty alright. By now it was clear that A.X. was no Otakon – no matter what the attendance numbers may be, however they might choose to calculate those numbers, there's just no comparing the two shows. Otakon is an experience on a whole other level. A.X. is good. Great, even. But in experience, the feeling and aura surrounding and filling the show inside the con center, there's no comparison.

Sunday was a struggle to find food. Downtown L.A. just shuts down after a bit since everybody leaves to go home to the suburbs. But Sunday is even worse than usual. We walked in wide circles, leaving most of our group behind so they could try Denny's while we kept looking. Eventually we met back up with the same group outside an IHOP, but left them again to eventually settle on a Japanese place not far from our hotel. We did a lot of walking that weekend. It was actually pretty great – we like walking, and rarely get that kind of exercise on a convention weekend.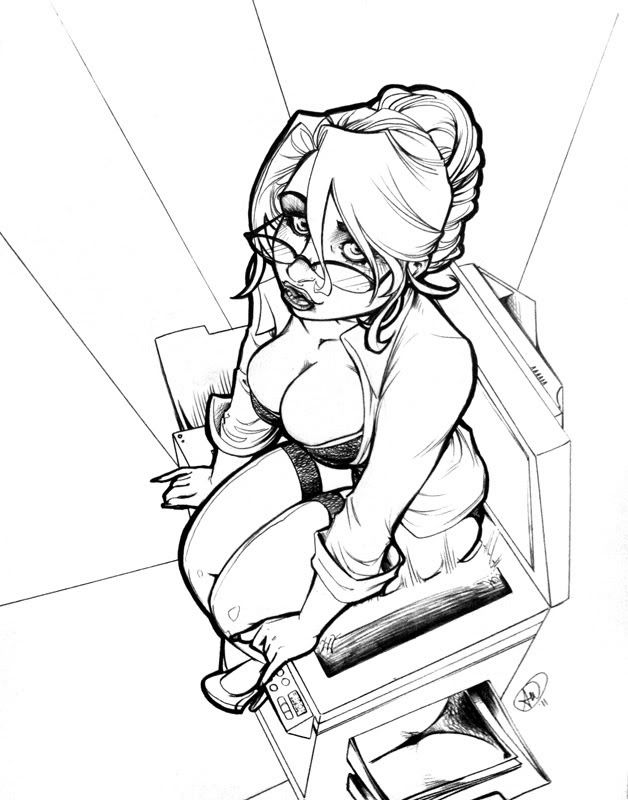 "Sexy Secretary" by Adam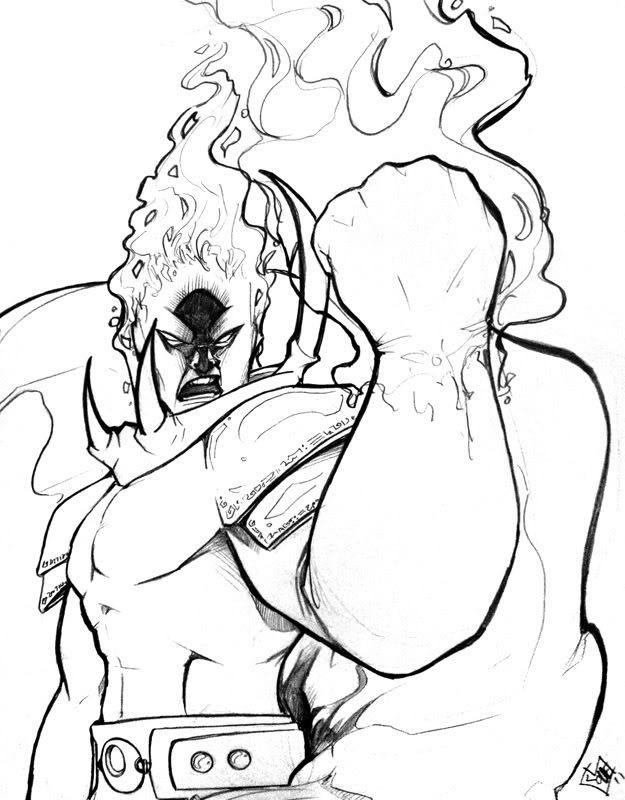 Dormammu by Comfort

So then comes Monday. It was the fourth day of a con that was, we'll be frank, not the kind of financial bonanza we'd been expecting, or even the financial high-five we'd been willing to settle for. We were running out of steam, but mostly looking forward to the close of the show and spending the rest of the afternoon just relaxing with Josh and Kat. Then, we got a phone call. We rarely hear the phone ringing in a convention hall, but Adam heard it this time. We weren't busy, so he answered.

It was Bryan Glass. He was calling to congratulate us. "Have you heard the news yet?" he asked. No, we hadn't. What news? "Congratulations to Harvey Award Nominees Comfort Love and Adam Withers, Most Promising New Talent for Rainbow in the Dark."

Things got a little blurry after that. In between coughs and sputters and as his eyes were watering (freaking Comfort out over what was going on in that phone call) he heard Bryan continue to explain that we had also been nominated for Best Anthology for Uniques Tales. And just like that we were two-time Harvey Nominees. Adam thanked Bryan, glad that he of all people had been the one to tell us the news. He hung up and told Comfort what had just happened, and we shared a moment.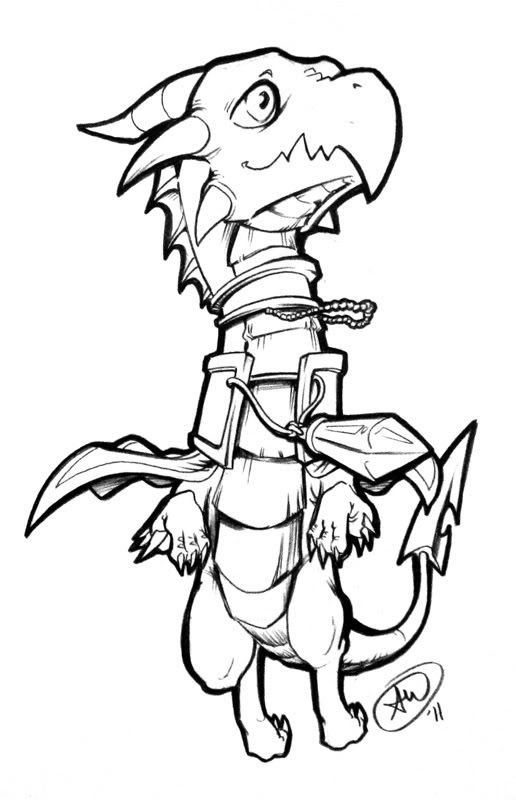 Cute li'l Dragon by Adam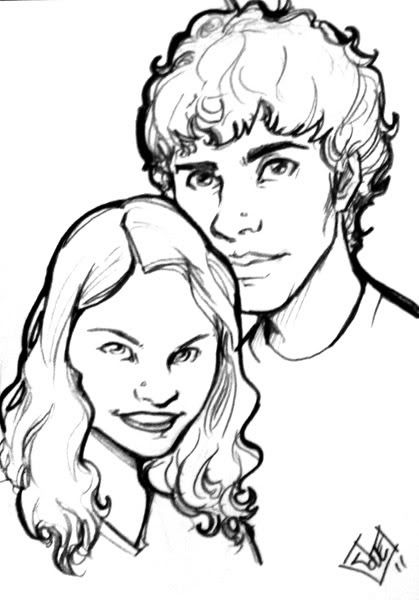 Portrait skecth card by Comfort

To be honest, the rest of the show after that is kind of hazy. Adam made some phone calls, Comfort made one or two herself. Everything else we'd been thinking about just sort of drifted away. We packed up when the show was over and went out with Josh and Kat for what turned out to be a celebratory dinner at one of the fanciest (and most uptown L.A. looking) places ever, where we were served fancy-pants macaroons by a cool waiter who looked like Greg Kinnear. It was a very good evening. We worked out in the hotel gym, we flipped through comics and art books we had all gotten at the show, and talked about what we were going to do next, career strategy wise.

Anyway, that was Anime Expo. We'll probably always remember it if only for the phone call on Monday morning. We were happy enough with our performance at the show and the experience as a whole that we're going to give it another go next year and see how we do. To really excel at a convention you need to go back a few years in a row to build that audience, and that's what we want to do. Plus, it's a chance to see Josh and Kat, to see L.A., to be someplace very different from our usual experience. We like that. Maybe we don't get to use convention weekends as vacations and we rarely get to really go out and see the cities we visit for shows, but when we're deep in the heart of downtown L.A. you can't not get some of that experience.

So that's that. In a few days we're going off to Baltimore Comic Con and we'll find out if we're Harvey winners or not. That should be… interesting. You'll be hearing from us for sure.

Until then, we remain-
Adam and Comfort, two-time Harvey Award nominees. ;)