We know we are behind on our convention blogs - but we needed to take a quick time out to announce to everyone that as of June 11
th
, 2001 our two very bestest friends
Chris Karath
and
Jennifer Oslund
are married!!!!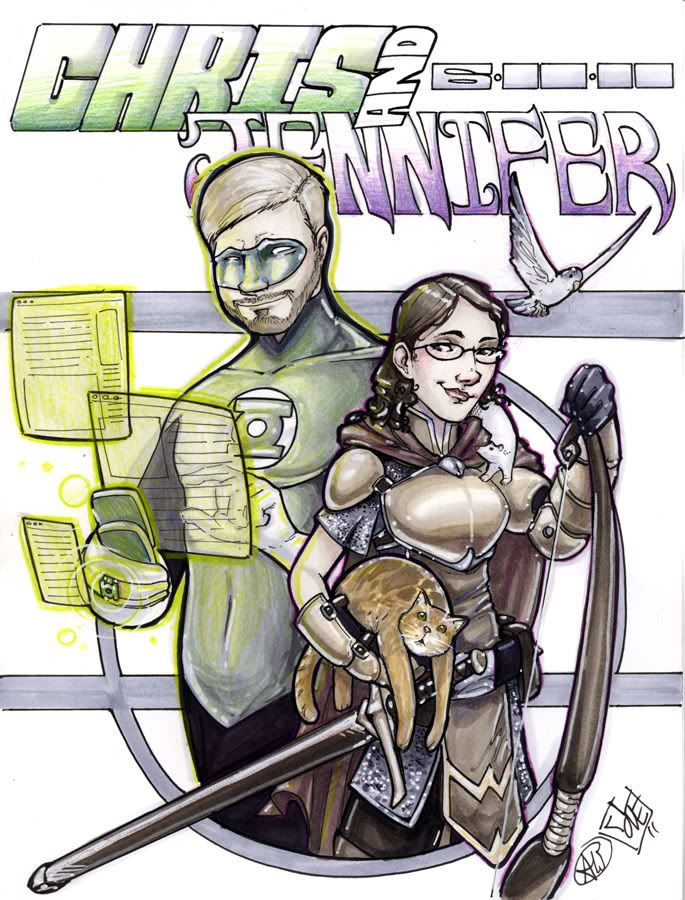 This is the cover to the front of the card we made them. As you can see Jennifer has all her pets for she is a fantasy character and a ranger ta' boot! And Chris is a Green Lantern (Chris is our #1 GL lovin' friend) and he has his phone to surf the internets with. Chris is a very special GL because not only can he use his ring to make anything - it also gets Wi-Fi.

Okay, so a little background here. We met Chris waaaaaay back in 2004 when our mutual friend Jeff introduced us via a game of Heroclix, and we all became instant friends. Chris lived in our same apartment complex, shared our love of comics, political and sociological navel-gazing, intellectual conversation, walks after meals, and good TV! Chris was the man that introduced us to Battlestar Galactica, technological gadgetry, and even encouraged us to start this very blog! Frankly, we would not where we are right now if it were not for the influence of one Chris Karath. Who may be looking at his computer right now saying to himself "Ugh… why are they doing this in public?" Maybe even shaking his fist like a villainous member of the Legion of Doom. (These guys, not these guys.) Tough, Christoff! You're gonna take it and like it! Waagh!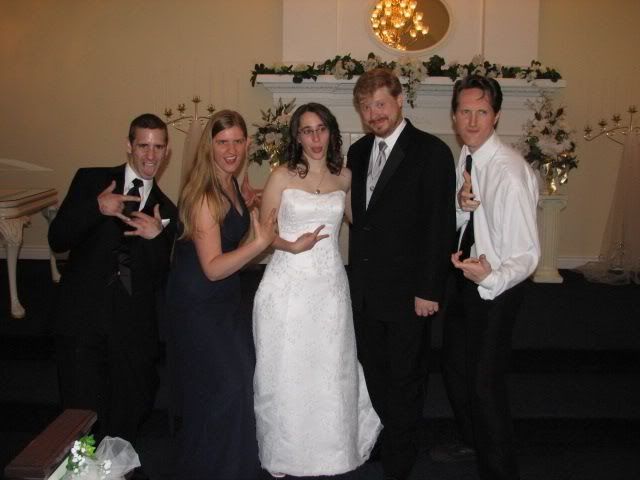 The awesomest picture taken at the wedding - which we insisted on! From L-R: Jennifer's brother Jeff, Comfort, Jeniffer, Chris, and Adam!
And so it was that years passed and we made the decision that we needed to move somewhere less expensive and wound up in Flint, MI. It was a really hard move for us, not because Grand Rapids is that cool a city (though it's pretty alright, really) but because we were going to be two hours from one of our best friend – from a guy we'd gotten used to being a five-minute-walk away from.
Who would he watch TV with, and share the same need to pause it every three seconds to put in some commentary or another? Who would he analyze and mock politics with? Who would he complain about comics to? If not us, then who?!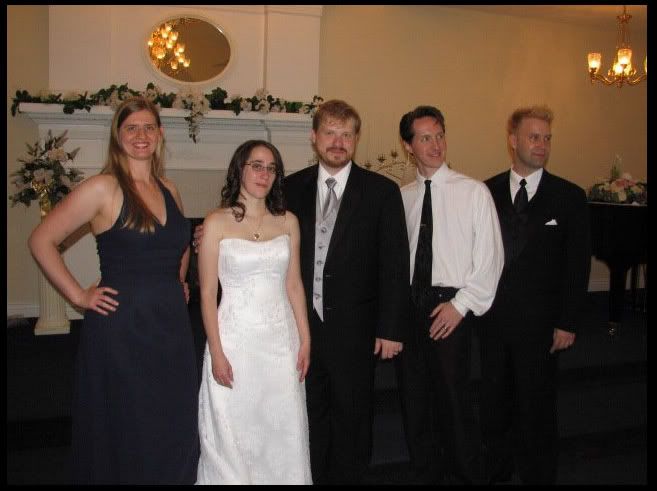 A non ridiculous photo - which were also taken. And check out Chris's best man, Chris from China. This picture does not do it justice, but the man has got AWESOME hair. Don't be surprised if you see Chris from China in the pages of Rainbow in the Dark very soon!
…and then one fateful day just a matter of days before our move, Chris said he met a girl on Twitter. Yes, we know. On TWITTER. He called her "the Unicorn," because she was a mythical creature so majestic and beautiful that it couldn't exist in the real world. She loved all the same nerdy and intellectual stuff we did, but also shared Chris' love of technology! We didn't actually learn her real name for a long time, but when we actually met Jennifer in person, we found out she was perfect for him. We liked her immediately… she's one of the only girls Comfort has ever genuinely loved to hang out with!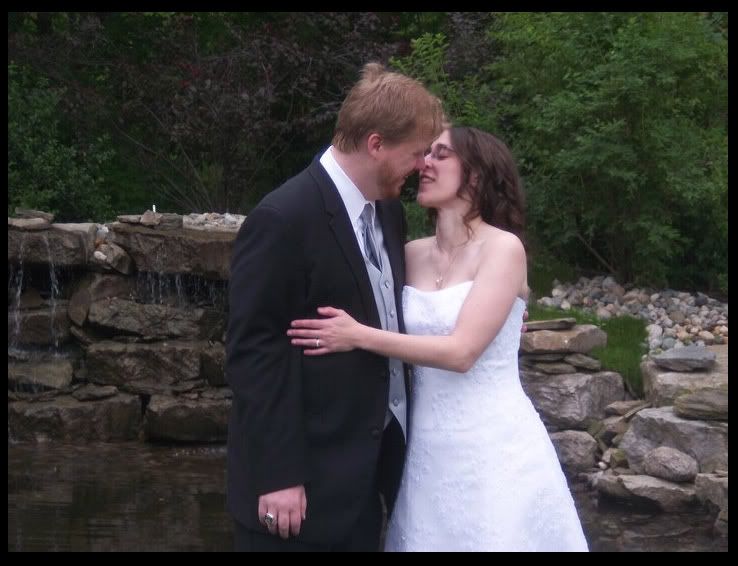 These two were so damned cute that they were both already misty as they walked down the isle. Which in turn made us both misty too. Ah love.
So when Chris proposed to Jennifer this past March (while in Chicago for C2E2! Nerd love!) it felt like the rightest thing that was ever right. And thus, the Saturday before last our two most awesome friends ever got married! Watching the ceremony actually made us choke up a bit, we were so happy. There's something even more wonderful about being so deeply happy because of somebody else's happiness.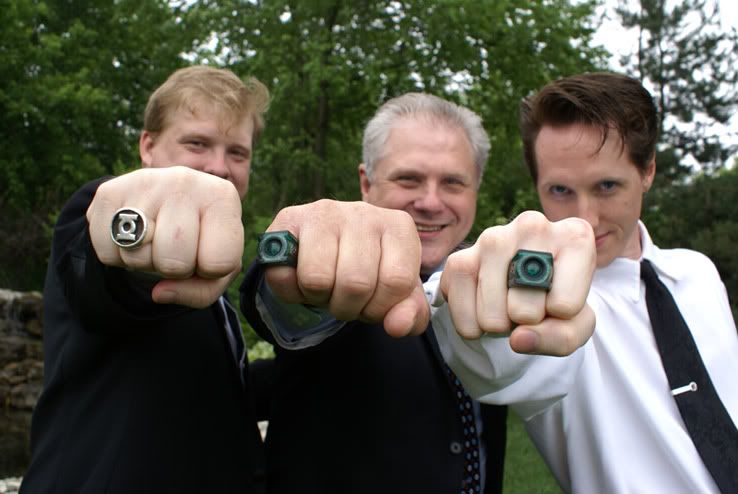 This is Chris, Chris's Dad, and Adam all with their GL rings. Another picture which we knew had to be taken!
The day was fantabulous. It was a really small wedding, only a dozen or so people in total - which made us feel very special indeed. It was a short but very sweet ceremony, followed by a delightful photo session. The ceremony wound up magically being only a 6 minute drive from our apartment, so we popped home to get in a quick nap before the reception.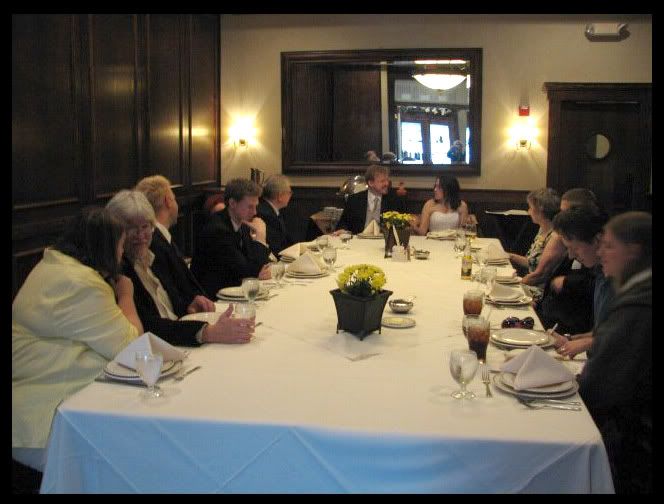 All of us at the reception. None of us having eaten, and thus having no idea of the food coma that was to come.
The reception in Troy had the most ludicrous amount of food we've ever seen laid out for such a small gathering of people. We ate ourselves silly! There were some hurty bellies had by all, but it was worth it to taste each of four different cakes. We enjoyed meeting and talking with the friends and relatives, even got to meet and talk with Chris' oldest friend, known to us as "Chris from China" for simple reasons (re: his name is also Chris, and he resides in China). It was a really nice way to spend an afternoon and evening.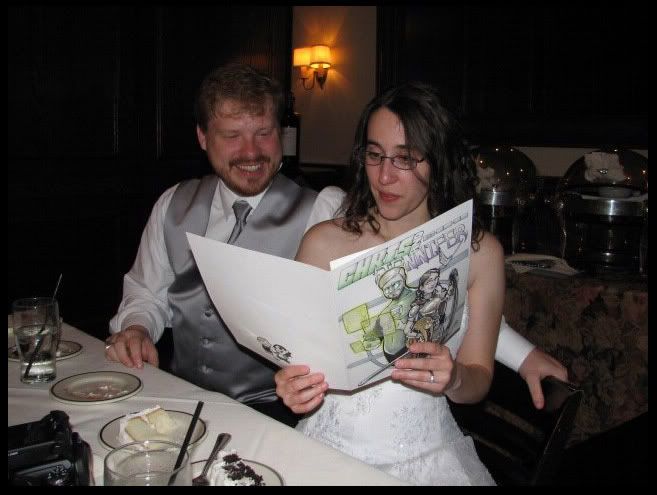 Look at those faces! This is why we do what we do!
So congratulations to the happy couple. And in the word of Spock and Chris from China, may they both live long and prosper.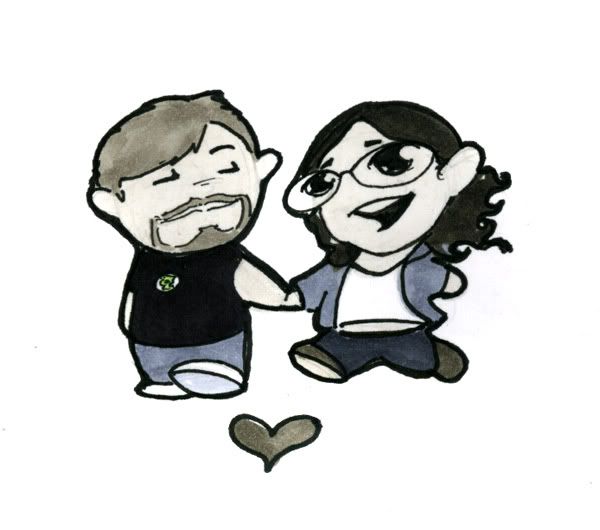 More art stuff soon, we promise. Super serious promise.
-Adam and Comfort