C2E2 has completed and we have returned. We're exhausted from the long weekend, and tomorrow we head to the airport to fly down to Florida for MegaCon. Not a lot of time to decompress, but here we are. It was a pretty intense weekend, and we haven't been that swamped in a while. In the end, we broke our record for highest profits from a single show (set at Otakon last year, then nearly matched at Dragon*Con the same year) and we sketched our hands off. More details after the bump…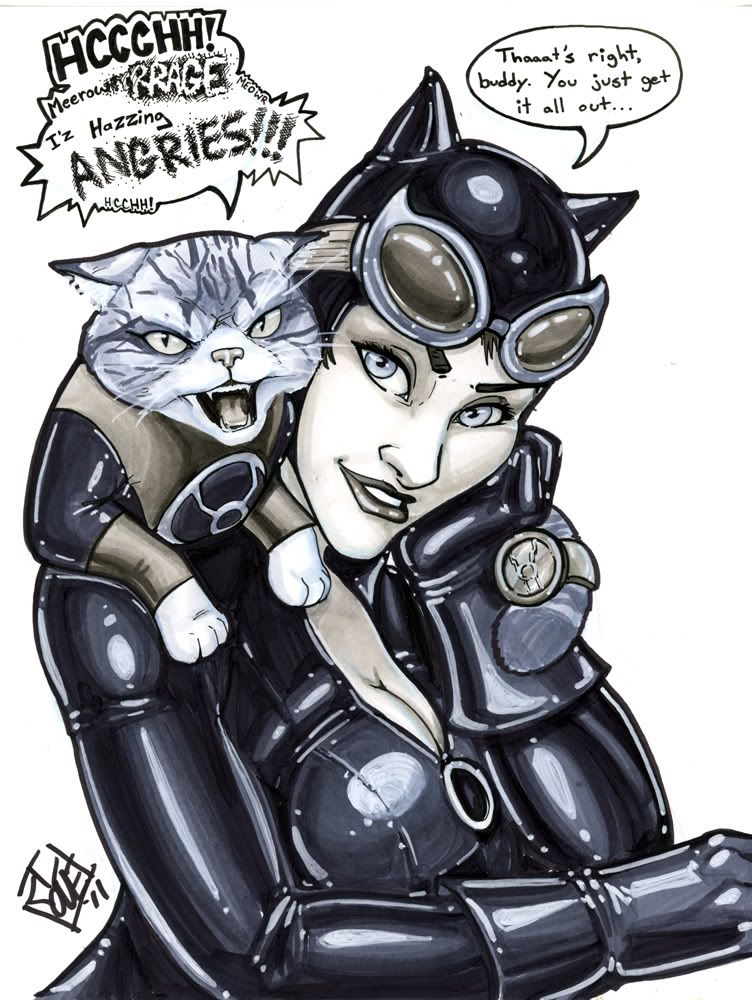 Catwoman and Dex-Starr by Comfort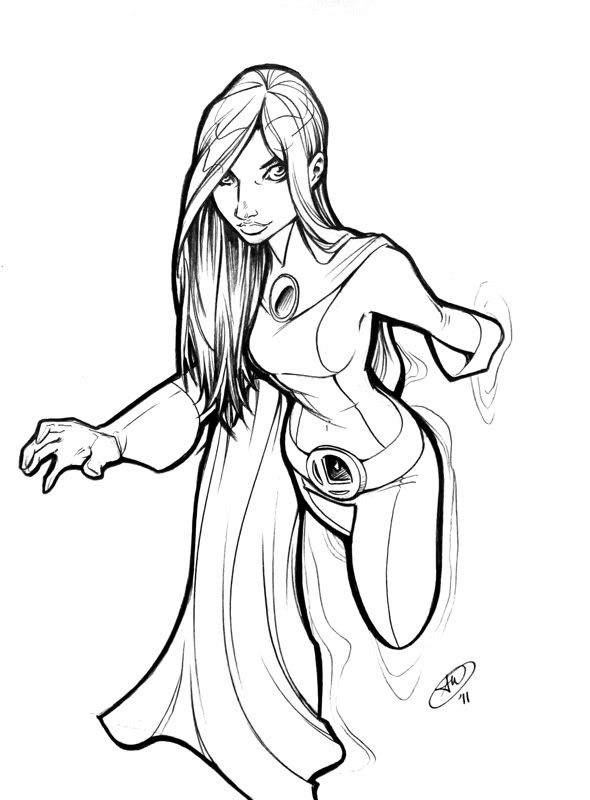 Apparition by Adam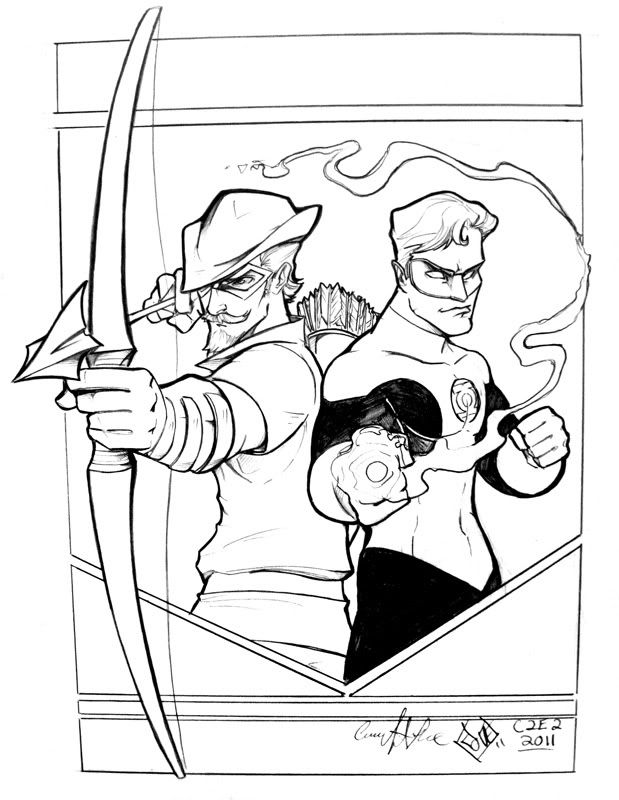 Green Lantern/Green Arrow by Comfort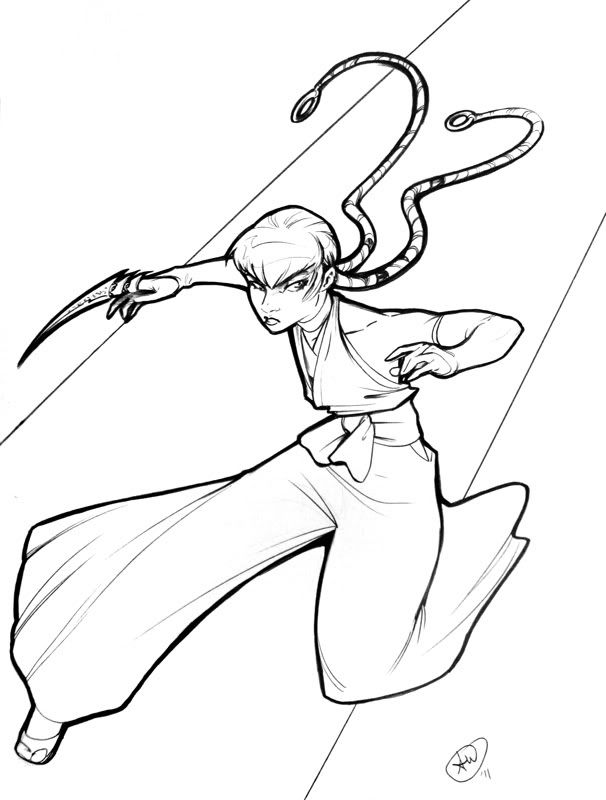 Soi Fong by Adam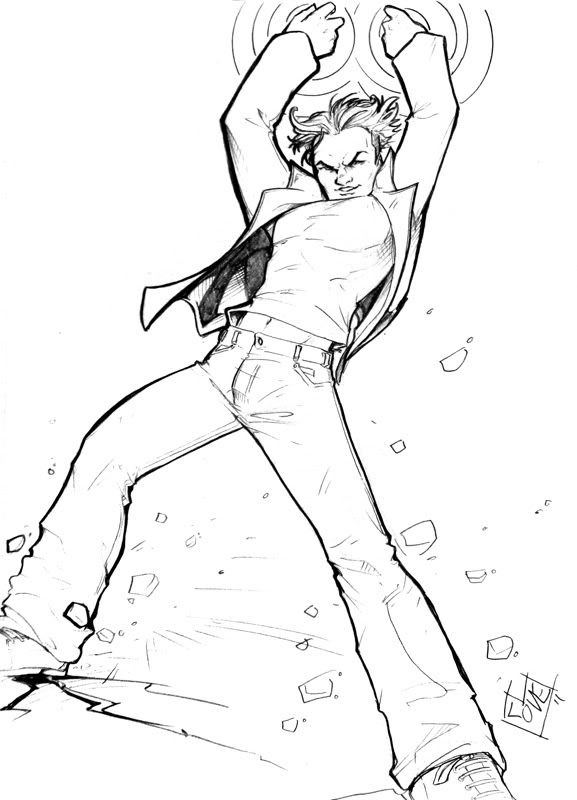 Quake by Comfort

We rolled into Chicago on Thursday, dropped our car off with Comfort's Aunt Rebecca, and rode down to the convention center. This was only the second year for C2E2 (or the Chicago Comics and Entertainment Expo), and its first year they put on a really nice show with good but modest attendance. We were curious to see how things would go this year and how far word of mouth had spread.

Dropped our things off at the convention center and spent the evening with one of our very best friends,

Bryan Glass

. Regular readers have seen that name here many times, but only because we love the guy so much. We hadn't seen him in months, and it was great to be back together. Of course, he was coming off of a massive sickness and still grappling with hacking coughs. Seems like a LOT of sickness has been going around. We've both been sick (Comfort 3 times in 2 months!), most of our families have been sick, most of our friends have been sick… is this a national nightmare?! Oy!

The rest of our roomies arrived later that night – the incomparable Dale Duo, Jeremy and Kelly. The five of us rejoined as one, we were like peas and carrots again. Delightfulness ensued. Not much sleep, though, but apparently we'll sleep when we're dead.

XS by Adam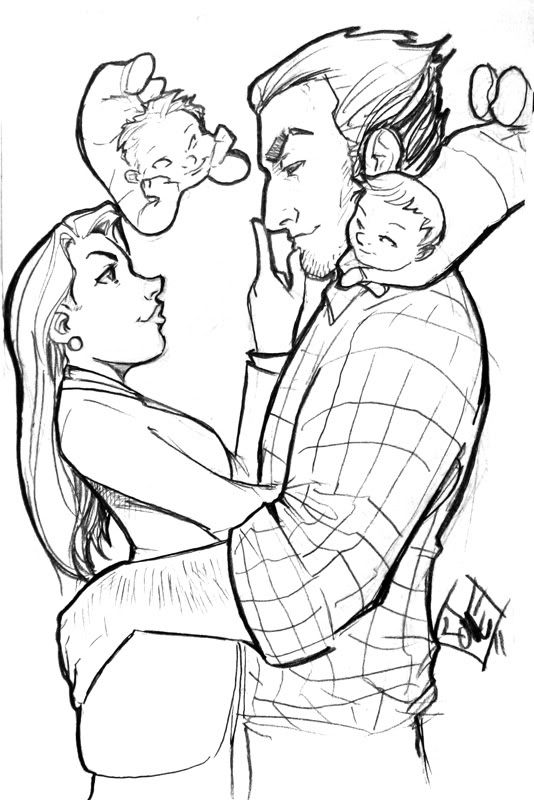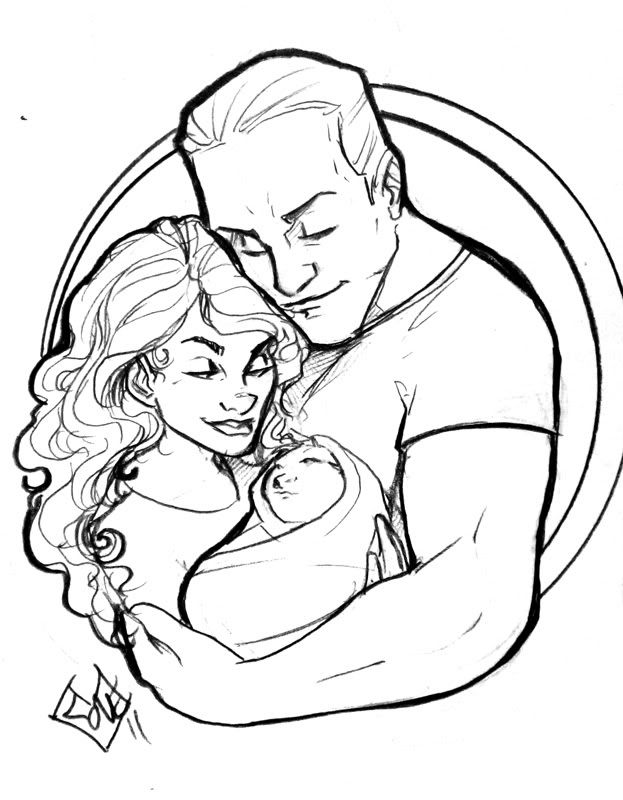 Bigby & Snow; Beauty and Beast, mini-sketches by Comfort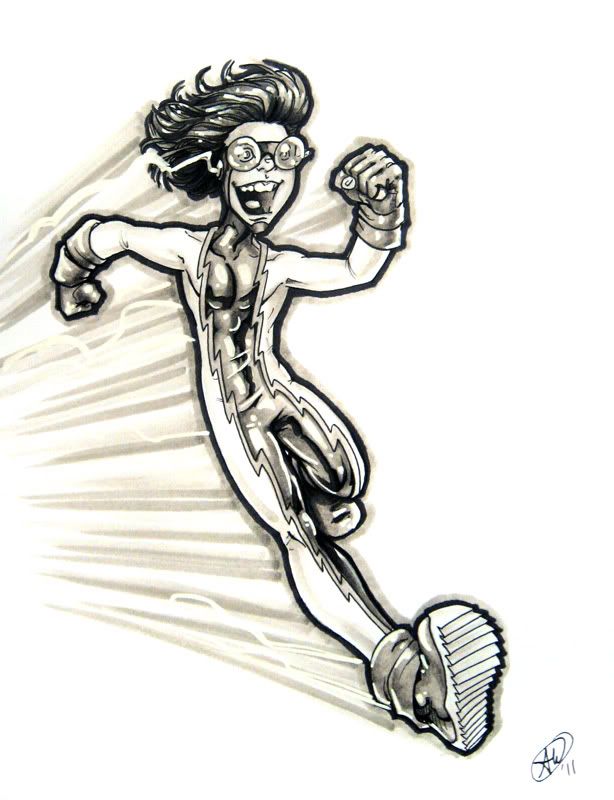 Impulse by Adam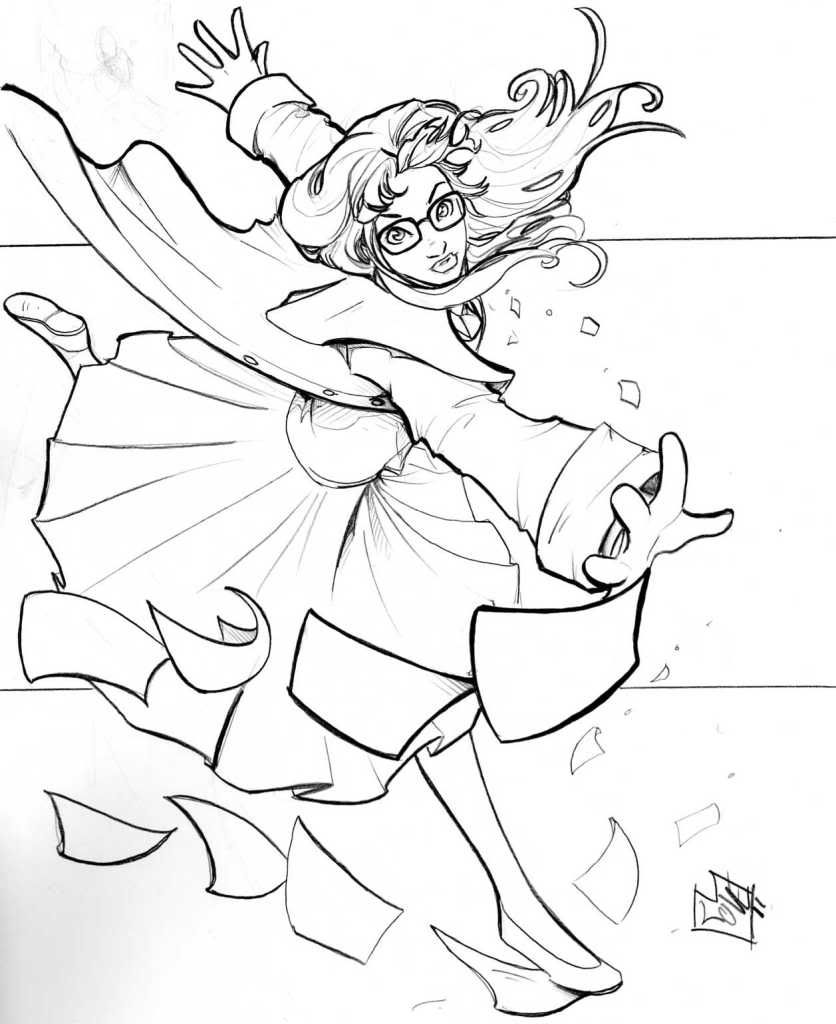 Yomiko Readman by Comfort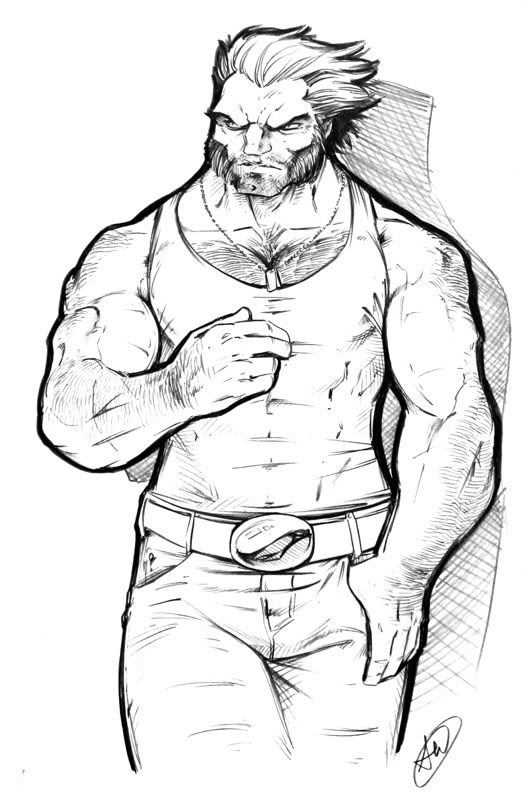 Wolverine by Adam

Friday we headed to the show early to set up. People with Pro badges could get in at 10 am, though the show didn't open to general admission until 1 pm. Still, we wanted to be ready—pros are people too! So by 10, we were set and ready. We got our shipment of

Uniques Tales

and Rainbow in the Dark TPB's, and they looked spectacular, so we were raring to go. Within hours, we were already starting to realize that this year was going to be much bigger than last year.

It already felt like a fully swinging show before doors even opened to regular admission. By the early afternoon, we already had a full-on sketch list going. By the end of the day, we'd sold an amazing amount of books and prints to match the heavy load of drawing we were doing. As is typical at a good show, we had many sketches to take back and finish after the show that night!

We retired to the spacious and comfy Hyatt lobby with lots of friends (shout out: Daren and the gang! Hey hey!). Jon Alderink and his daaaahling wife Andrea joined us as well – they're new parents, but they had somebody watching their adorable little 3-month-old until Saturday. Also along for the ride was Marcus Almand, writer extraordinaire and all-around decent guy. We ordered out some Chinese food and chilled in the lobby for hours and hours. And hours. And we drew and drew. And drew. And drew.

Even after everybody had split except for us and Mr. Glass (who joined a little later in the evening), we kept on going. Then Adam Hughes stopped by and we talked for a long time about Avatar (the Airbender, not the blue people) and it's 3-star ending for a 5-star series, and a theory regarding the Star Wars prequels, the ramifications of which receiving in-depth discussion while the theory itself went undescribed. Another time, mayhap.

So it was pretty late when we got up to the room, only to rejoin Jeremy and Kelly and stay up even later. This quickly became a pattern.

Wolverine vs. Kenpachi Zaraki by Adam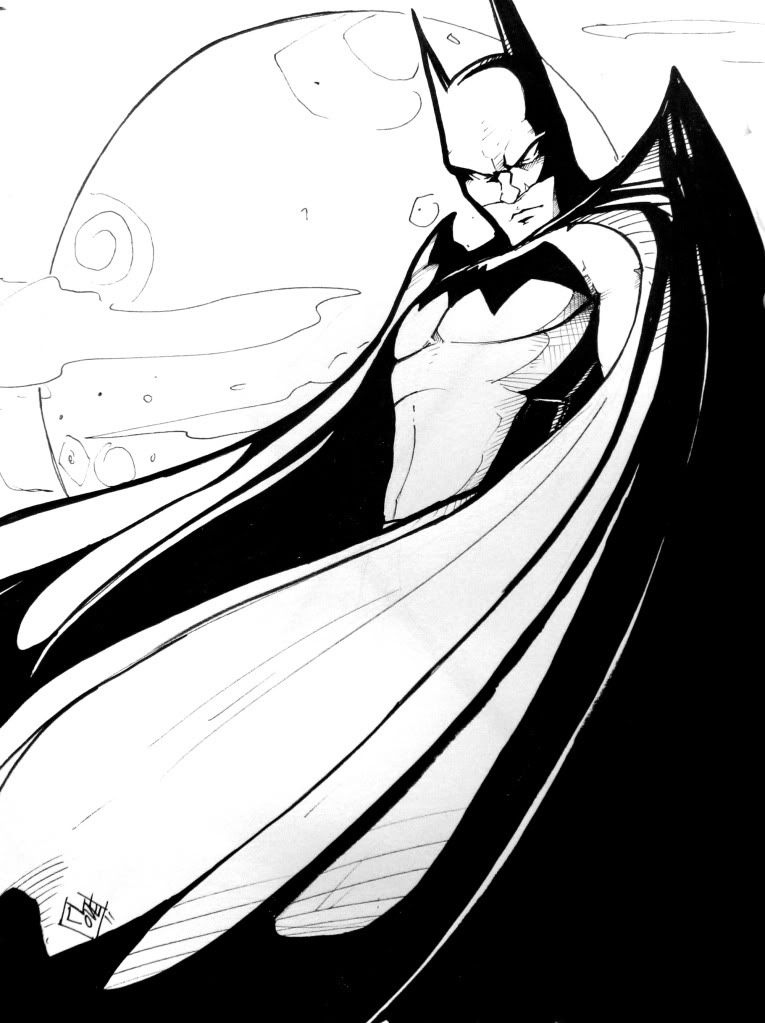 Batman by Comfort



Dawn sketch card by Adam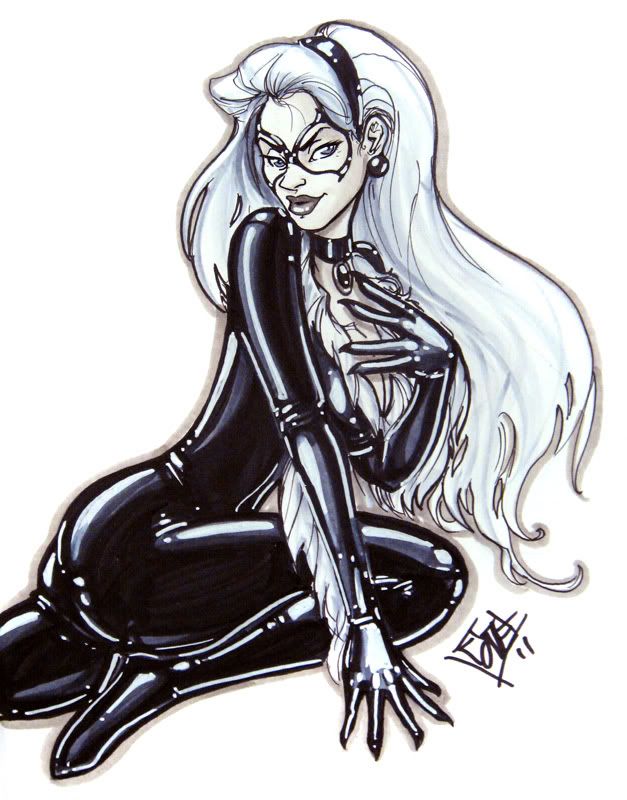 Black Cat by Comfort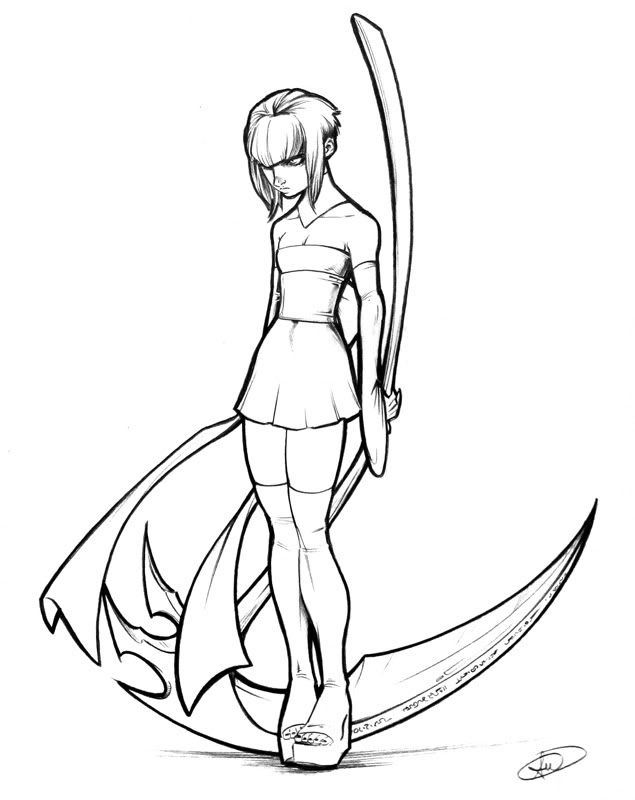 Scythe-slinging OC by Adam

Saturday was just crazy. Crazy. We didn't move from our seats once for nine hours straight. We were drawing without pause and selling hand-over-fist. By the end of the day we were flat-out exhausted, but even dead on our feet we had to keep going. The work doesn't end, bay-buh! We ordered in more food and hung in the lobby with our sketches and each other for company. We wound up meeting a really interesting guy – Dheeraj Verma, an artist from India who was touring America via several comic cons. He was a really great guy to talk to, and we wound up sitting and drawing together while he was waiting for his party's food to arrive.

Joined by Thom Zahler and Paul Storrie, we commenced another evening of chatting and drawing. We actually tried to turn in at a decent time, this night. We returned to our room a little after midnight. Then, naturally, Jeremy and Kelly returned and we wound up staying up way too late laughing about MMO player stories, Daleks singing 80's hits, and other assorted silliness.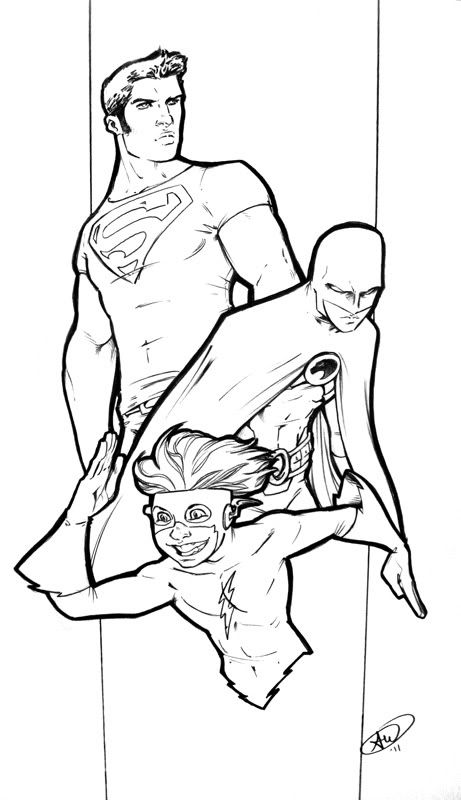 Superboy, Red Robin, and Kid Flash by Adam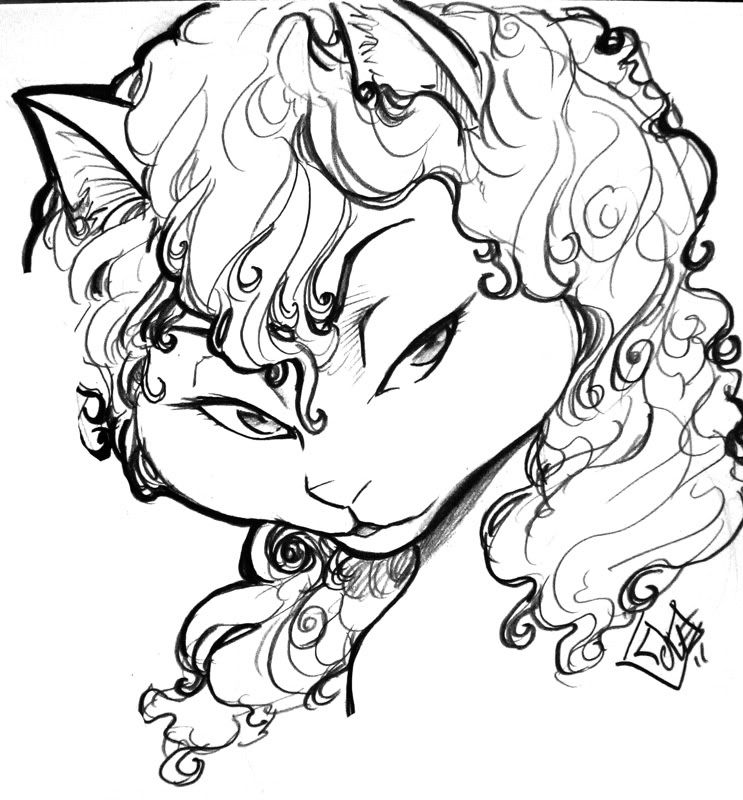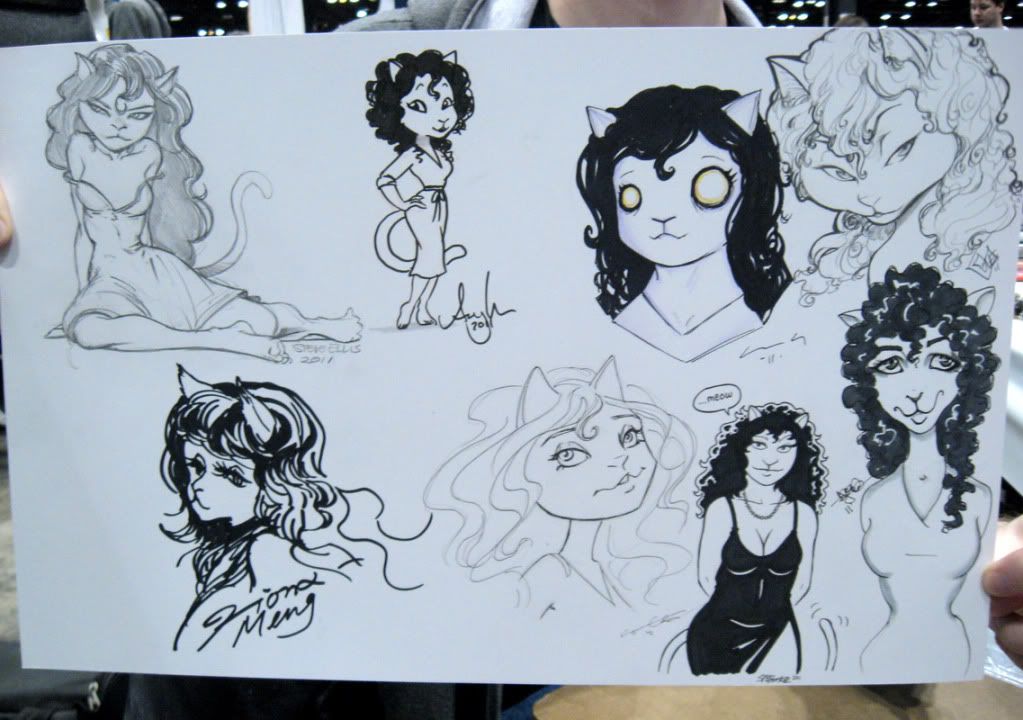 Cat-Girl by Comfort; part of a sketch jam piece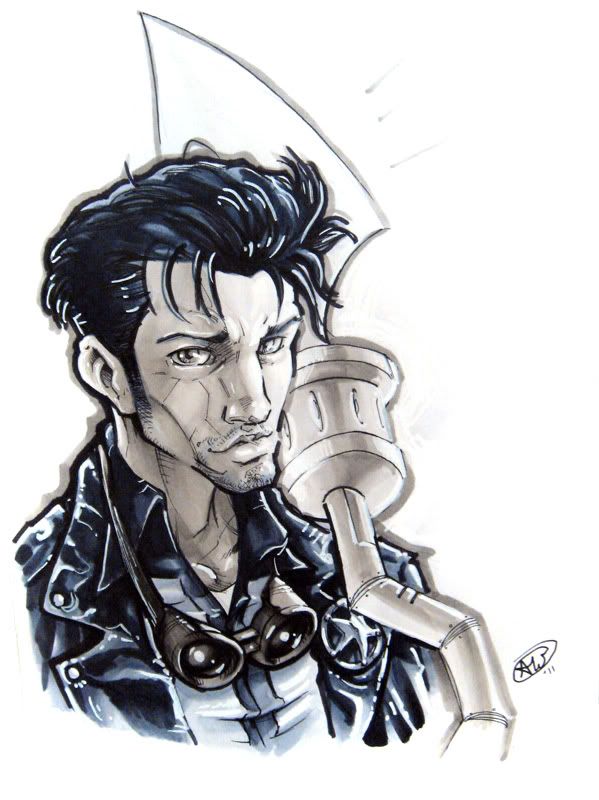 Starman by Adam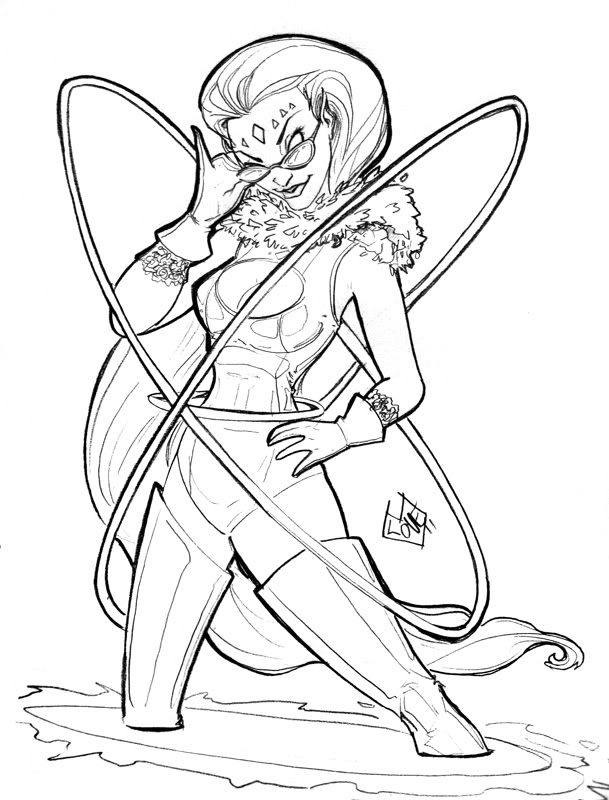 Blink as Lady GaGa by Comfort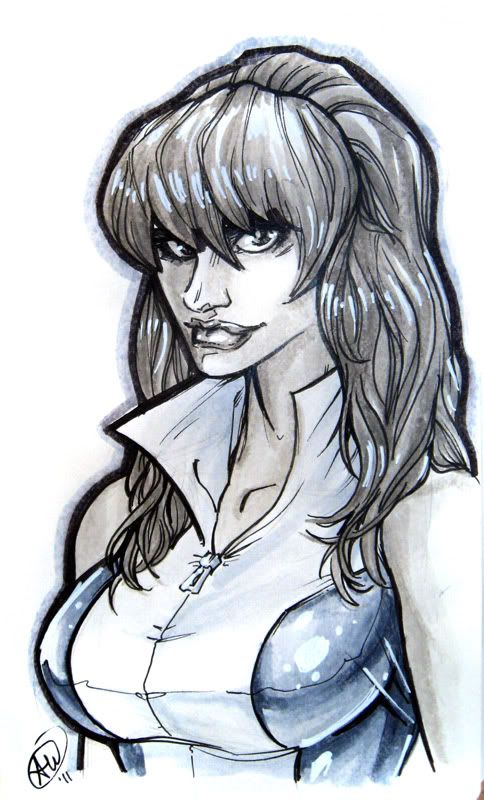 She-Hulk mini-sketch by Adam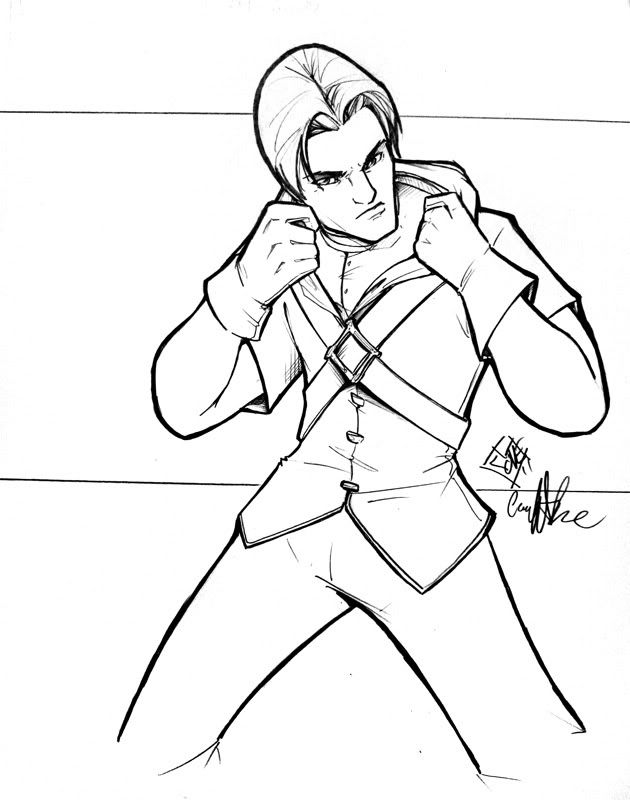 Assassin OC by Comfort

We strolled into the show Sunday morning happy that even if business tanked, we'd still made out like bandits on the strength of Friday and Saturday alone. But business didn't slow down much at all. By the time it was all done, we'd completely sold out of Uniques Tales vol. 1 AND Rainbow in the Dark vol. 1, we were within three copies of selling out of the Uniques omnibus, and had moved somewhere in the neighborhood of 200 prints. And you can see all the sketches we did, so there's that too. We even sold some original art. It was a rare weekend all around.

Ian Levenstien and

Kris Naudus

, two exceptional people and good friends, joined us for dinner and much decompressing and goofing off. We discovered via Kris that any declarative statement can be made hilarious if followed by "That explains all the casual racism…" Try it, it's fun. We also found that PAX is a delightful show full of fun and winning and that Daleks singing 80's songs wasn't just funny because of sleep deprivation. We walked them to their bus stop, enjoying the night air and a weekend well spent, then returned to the hotel room to debrief with Jeremy, Kelly, and Bryan, and say our goodbyes since they'd be off to catch their flights before we woke up the next morning.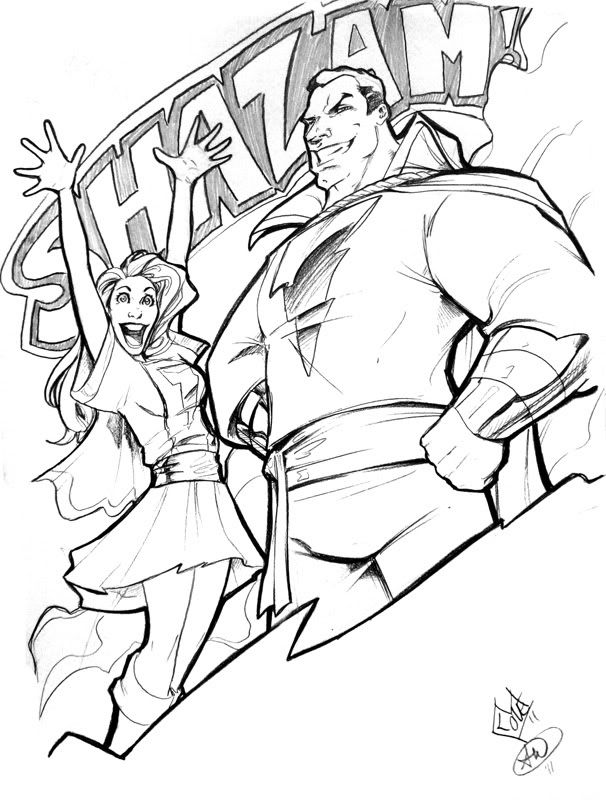 Captain Marvel and Mary Marvel by Adam & Comfort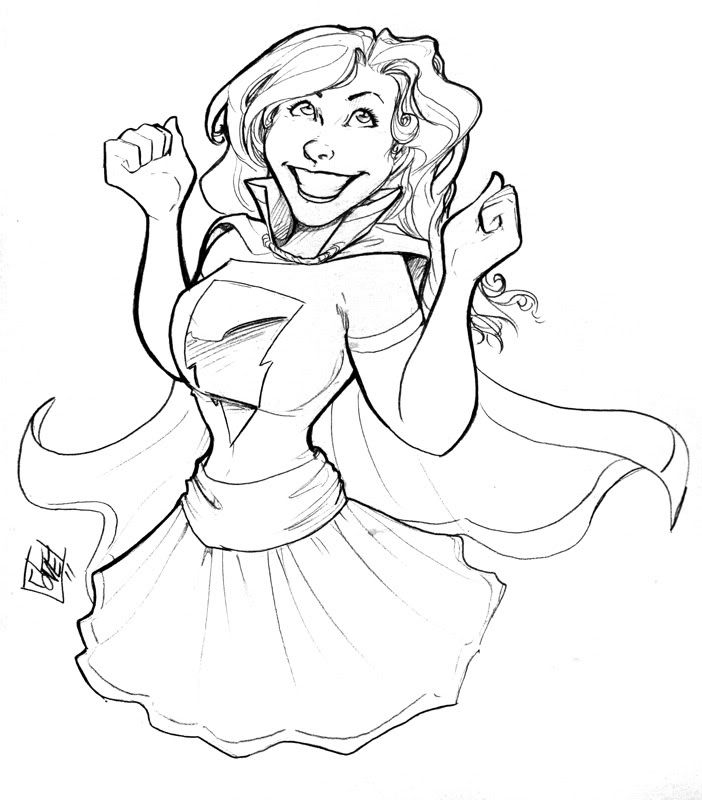 Mary Marvel by Comfort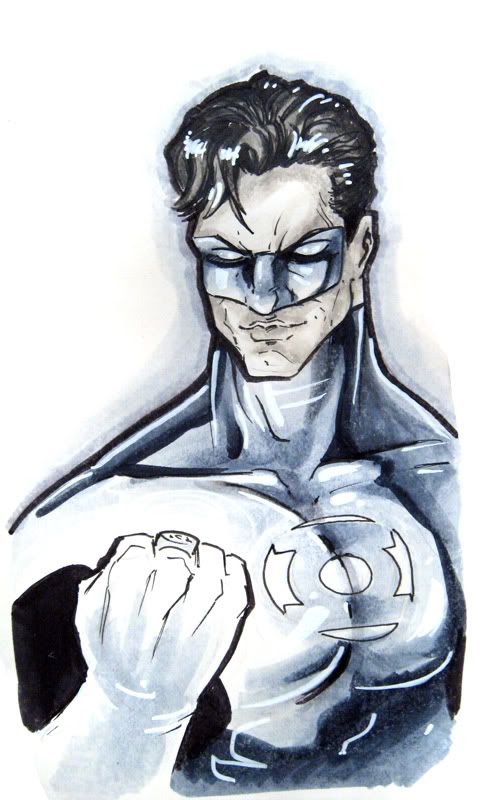 Hal Jordan mini-sketch by Adam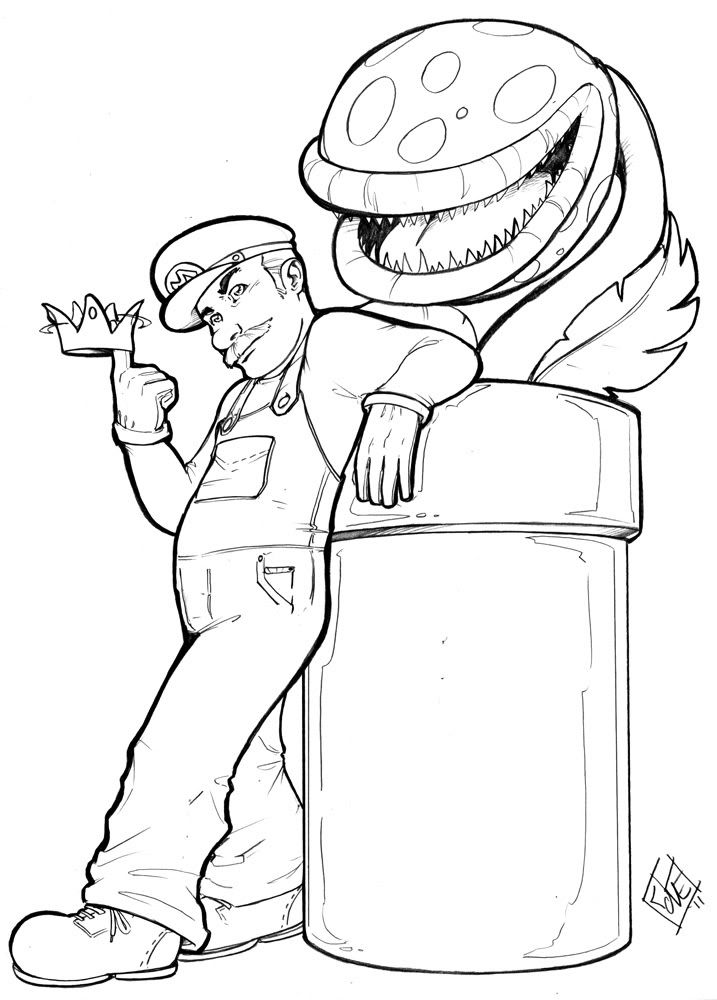 Mario by Comfort


Rogue quick-sketch by Adam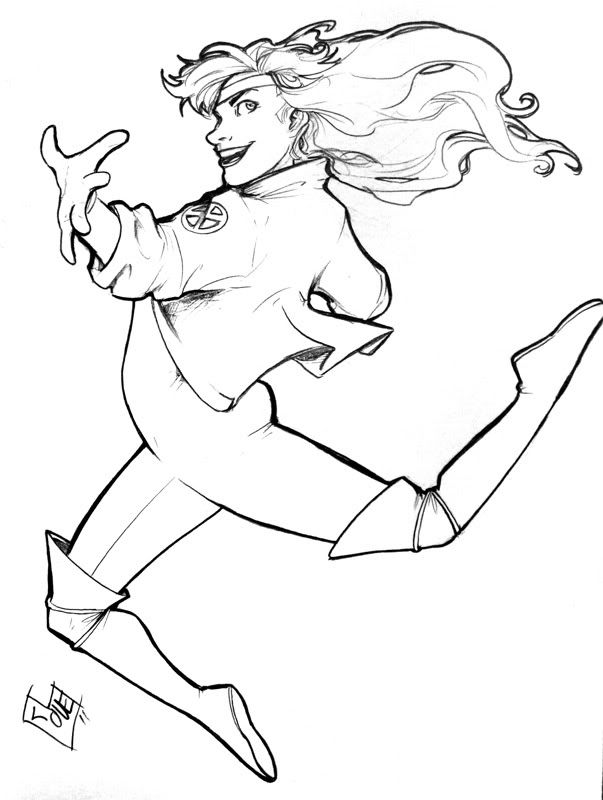 Rogue by Comfort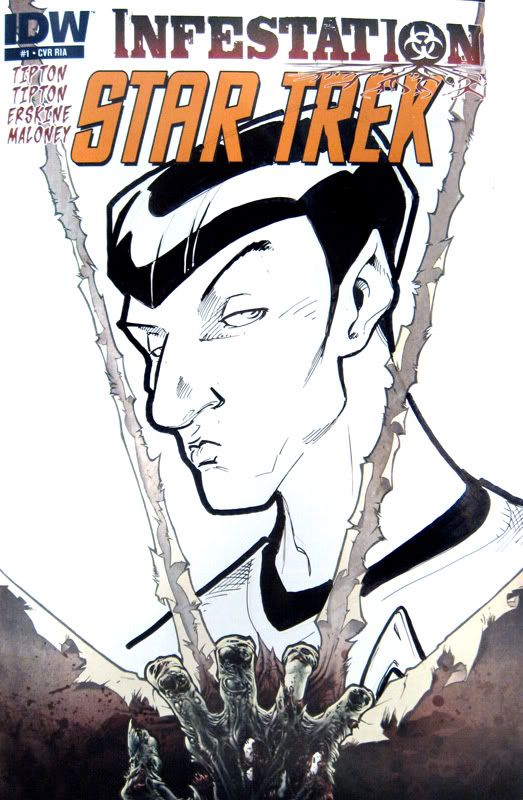 Spock Sketch Cover by Adam

All in all it was a fantastic weekend. Never have we seen a convention grow in attendance so much in just one year. It was night and day from last year's show, and it shows in the earnings we had – almost double the take from the last C2E2. The show was just as well-produced and eventful, but now there was a humongous crowd there to enjoy it. This event was everything we think Comic Cons should aspire to – lots to do, lots of entertainment outside the show floor, a variety of panels and events, a variety of guests and creators, and stuff to do late into the evening. It was a spectacular convention, and we are already looking forward to returning next year.

And that's all from us for now. We'll be back next week with a report on our return-trip to MegaCon after a year absence. Our spirits are high, our wallets are fullish… well, at least all our cards are paid off. In any case, we're excited and ready to go.

See you in a week with the recap!
-Adam & Comfort