And now, in our continuing efforts to get people excited about our comic project 'The Uniques,' we present the newest installment of our ongoing series of character profiles.
--Better Know a Unique--
Today we get to know Telepath's parents, the most powerful Psions in the world--
Mentor
and Kinetic. First illo of their 'Modern' costumes by Adam, and second illo of their classic 70's 'Silver Age' outfits is by Comfort.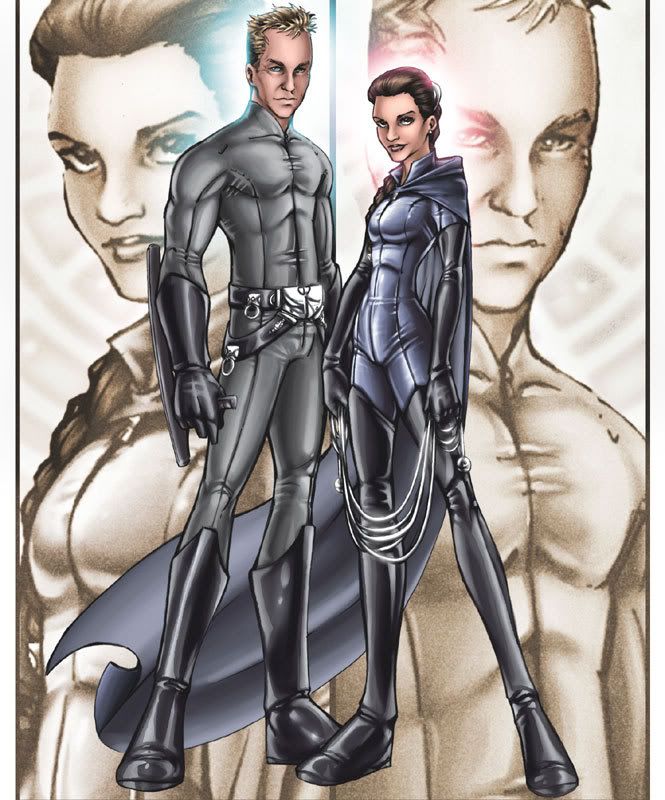 Height:
6' Weight: 190 lbs. and Height: 5' 7" Weight: 140 lbs
Born:
Febuary 19th 1954 and
June 15th 1953
Powers and Special Abilities:
Telepathy; Telekinesis; Highly-trained martial artists, mastering the melding of telekinetics and hand-to-hand combat.
From an early age, John Sage could see the thoughts of people around him. But when he slept, he always dreamt about the same person: a young girl of his age with sad but intense eyes and brown hair named Sue. Real or imaginary, he didn't know, but she was his best friend and he loved her deeply.
It was five years from his first vision of her, in the summer of '69, that fate brought them together. From across the country, thousands of miles apart, they found each other. His family happened upon the mental institution holding her sedated, as part of their missionary work of driving devils from poor, possessed children. John and Sue knew there were no devils to be found - they were Uniques, not possessed. When he saw her there, their minds met in person for the first time and they knew what they had to do.
They escaped together, running from his family and the institution that had held her. The two teens hid themselves away by using their powers, moving from country to country in secret. They decided that they would find a way to change the world so that no Unique would ever have to hide in shame or be locked away ever again.
They spent years traveling, gaining knowledge, training, and making secret contacts. They took on the personas of
Mentor
and Kinetic to hide their identities, fashioning themselves after the superheroes of decades past. They met a man who called himself Current, another Unique on the run, and the three of them formed a bond and returned to
America
to fight for the civil and humane rights of every Unique.
Together, the three were a part of great change. They spoke out against the use of Uniques in the Vietnam war, where children as young as 14 died in the fields, used as weapons by their country.
Vietnam
ended, and they continued working to elevate the public consciousness of Unique rights, saving countless lives through their heroic work.
This was not enough for Current, who wanted more than mere social change - he wanted vengeance. Current broke from
Mentor
and Kinetic, becoming more and more militant in his pursuit of 'justice' while going from their best friend to their greatest enemy. Their first true battle with Current saved hundreds of lives from his cruel schemes, but nonetheless they were crushed by betrayal and sadness. It was during this period that they found out that Kinetic was pregnant. They named their baby girl Hope, because she represented a new beginning for their lives.
It was at this time that Speed and Celerity came to them with their hope to reform a new League of Seven to combat global threats like Current and others. They gathered together the top heroes of the day, even bringing Virtue back from his self-imposed exile. As fate would have it, the first mission was to defeat a returned Current and his band of militant extremists. The League was victorious, and in the wake of this great victory - much to their surprise -
Mentor
and Kinetic were elected leaders of the League of Seven. To show the world that a new age was dawning, they removed their masks and revealed their identities to the world.
For the next few years, the League of Seven brought peace and justice to the world.
Mentor
and Kinetic had another daughter, Conscience, and the parents within the team raised their children with the League as one large extended family. As time went on,
Mentor
and Kinetic realized that fighting criminals and terrorists wasn't going to bring about the kind of change the world needed. The only way to truly shape a better world is through education and community, so with heavy hearts they left the League to begin the construction of a school for Uniques.
While the school was being built, they continued adventuring with somewhat less frequency, but their daughter Hope began fighting alongside them as Telepath, and the family team was still a major player on the world stage. In April of 1993, they joined forces with a cadre of the world's greatest heroes to bring an end to the Cold War. With the world on the brink of destruction, it was the faith and struggle of four people - Countryman, Comrade,
Mentor
and Kinetic - who brought an end to the conflict. The governments forged new treaties of peace, nuclear disarmament was begun, the former
Soviet Union
held democratic elections for the first time, the weaponization of Uniques was globally banned, and
Mentor
and Kinetic were loved and renowned as the saviors of the planet.
On
April 18th 1994
, those responsible gathered to celebrate the end of the long and bitter conflict. In the United Nations building in
New York City
, the greatest heroes of the planet came together with the leaders of the free world and all the eyes of the globe were on them. In a blinding flash, all were lost. John and Sue Sage were gone in the single greatest act of terrorism in world history. Their legacy would endure, and their memories would inspire generations after them.
But to two young girls, all they knew was that their parents were gone. Telepath would take up her mother's uniform and her parents' dream of a better world and carry on their legacy. All that remains to be seen is what lies in store for the children of
Mentor
and Kinetic.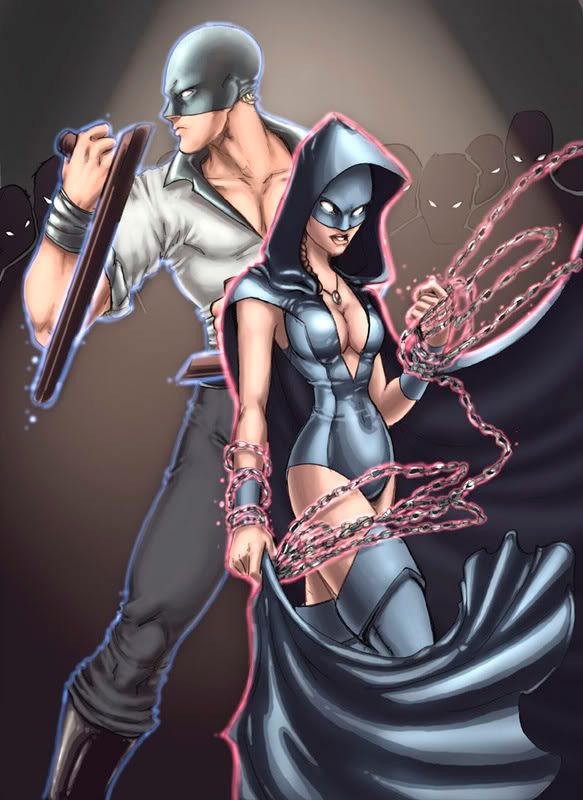 And that's all for today. *whew* These take some time, but we hope you enjoy them! Next week there'll be some more Uniques stuff, and in two weeks we bring the next installment of 'Better Know a Unique' with Speed and Celerity - the Lo7 Speedsters!