It's Sunday and that means we're going to play our Star Wars RPG at
4:30
and game into the night. In celebration of the coming fun, as always, we displaying Star Wars related artwork.
Comf's contribution this week is some character sketches of Anakin and Obi-wan. She's doing a series of these for a big ol' Star Wars: Clone Wars pin-up she's chipping away at. Star Wars: Clone Wars was a series of shorts on Cartoon Network chronicling the time in-between Episode II and III. The artistic animation style was similar to Samurai Jack and Comf is trying to get the characters into her style while trying the incorporate the influence of the cartoons as well as the live actions movies. Both of these guys were kinda tough to nail down, as well as decide what era she was going to aim for. Ultimately the decision to stick with the Episode III looks was made and she feels like she's almost there for the both of them, but it will probably take at least one more pass before the looks are ready to go to the final.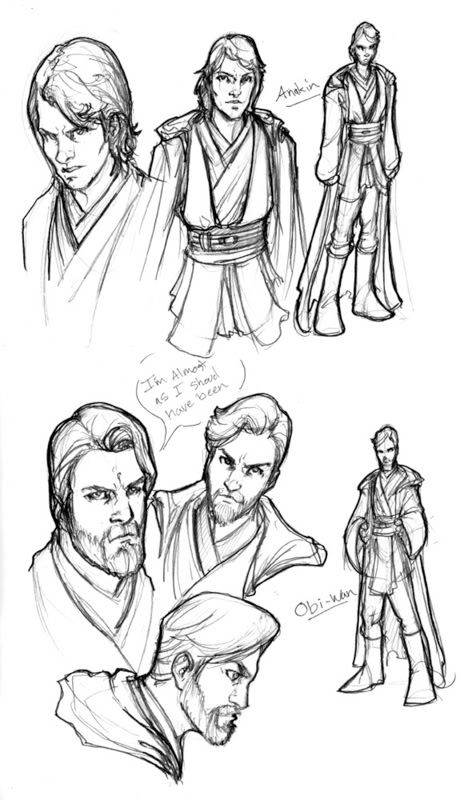 We're finally gamin' again today after a week off, and we can't wait to start today at
4:00
! Yay roleplaying! We mentioned Comfort's brother's clarinet recital last night, and it was awesome. It's amazing how good he's become and we were really proud to see him doing so well.
As for Leprechaun, we weren't able to secure a copy of Leprechaun in the Hood, so we had to watch Leprechaun: Back 2 tha Hood. All we have to say is this - they must have used up all the funny in the first one, because the sequel was pure crap. Wow. Ever see a funny-bad movie that was so bad it wasn't even funny anymore? Save yourself the time and avoid this one (as if we needed to say so for Leprechaun: Back 2 tha Hood…)
That's it for today, we'll see you back here tomorrow for Better Know a Unique: Motherboard.