Well fair readers - can you believe it - we're off to yet another convention! This time we're on our way to Summit City Comic Con in Fort Wayne Indiana! It's a delightful one day show run by one of our favorite people in comics, Zack Kruse. He's a tenacious guy who we've really come to respect. And let us tell you, he puts on a heck of a one day show!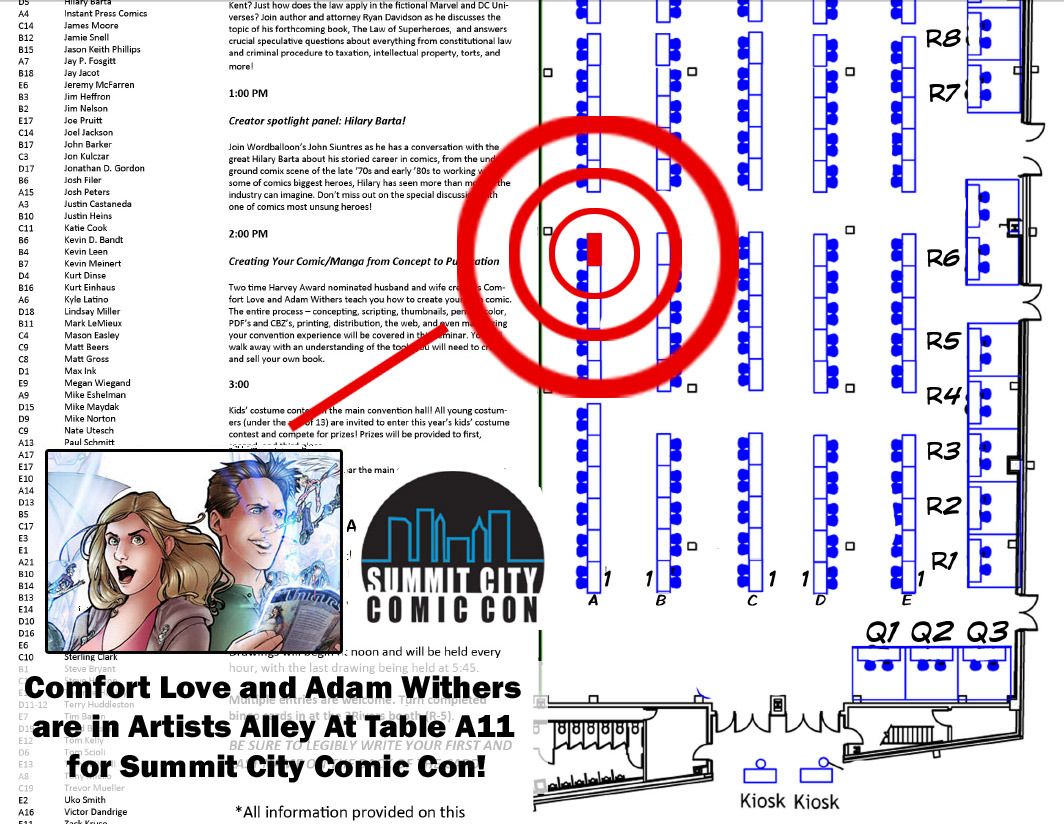 So, as with every show we'll be there selling books, prints, and doing sketches until our adorable little hands fall off - all day Saturday in the land of Summit City Comic Con! Above is a map of our placement in Artist Alley.




In other news, we recently were interviewed by the TGT podcast with Kurt Sasso, an awesome guy who runs a fantastic podcast. You can listen to us talk about life as a self-publisher, living with piracy, our books, and various other things here!

RAINBOW IN THE DARK NEWS:
Rainbow in the Dark #7 is underway: the entire issue is laid out in rough form, now we're tightening the roughs up and prepping for final pages. Let us tell you, compared with all the insanity of issue #6, this one is a cake walk.
Our plan is to finish Rainbow in the Dark #7 for Heroes Con this year. So in order to do that, we'll have to hunker down for yet another 30 days of HELL! But, we've don it once - and we can do it again!



Rainbow in the Dark page 12 rough



Rainbow in the Dark #7 page 13 rough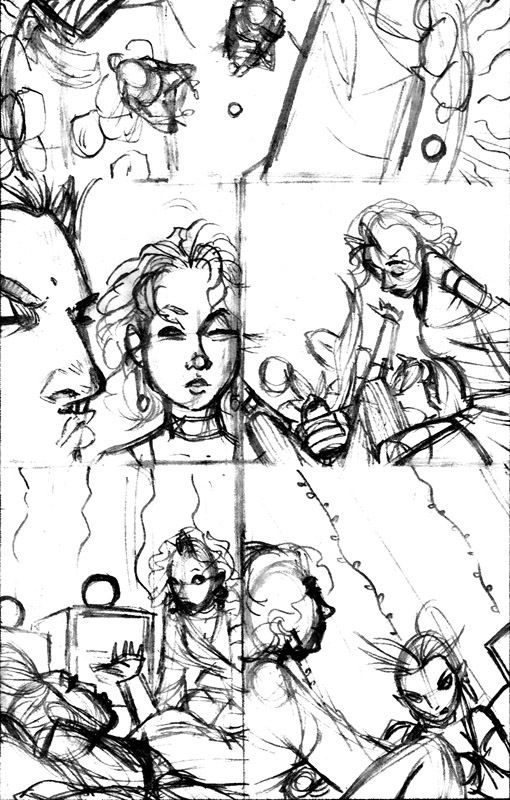 Rainbow in the Dark #7 page 17 rough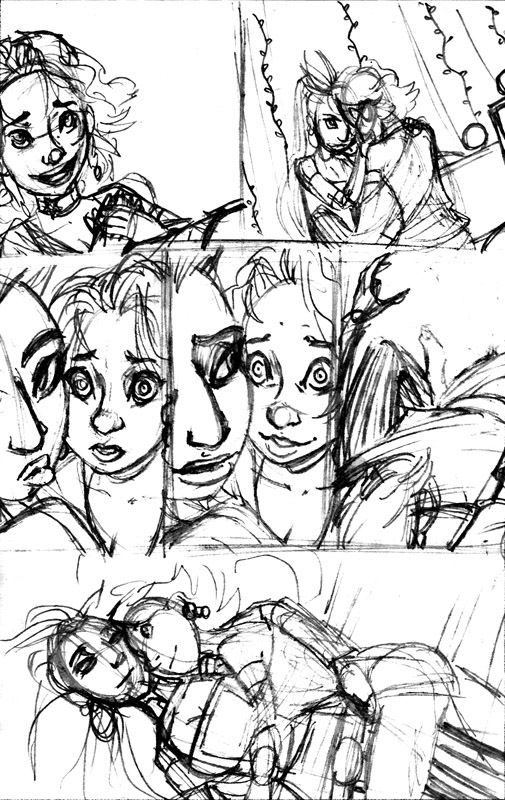 Rainbow in the Dark #7 page 18 rough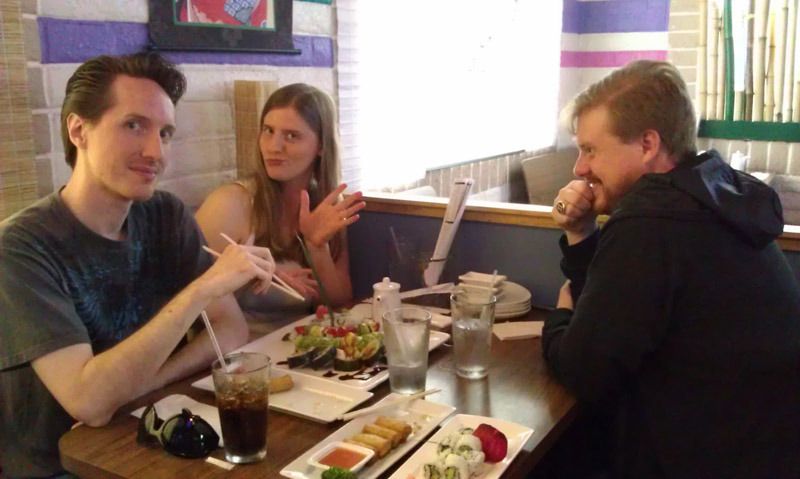 Us with Chris right about to dig into our delightful sushi meal. Our favorite part of the picture - how much Chris finds our posing to be ridiculous!
Lastly, we went to go see the totally AWESOME Avengers movie with our super kick-ass friends Chris and Jennifer last Saturday. After the movie we went out for sushi (Chris had cake) and talked all about the film we had just seen. Inevitably, the subject of The Dark Knight Rises (the other massive comic movie of the summer) arose. Specifically, character Bane became a topic. Thus, an entire discussion ensued, which included the full explanation of the origins of Bane, as well as the potential coolness vs. the inevitable lameness of of said character. A delightful time indeed, many back breaking jokes were made to be sure.

But, we had no idea exactly how delightful until we got our mail today and opened it up to see that Chris (we assume, although we can see Jennifer having her hands in this as well) had made us a card...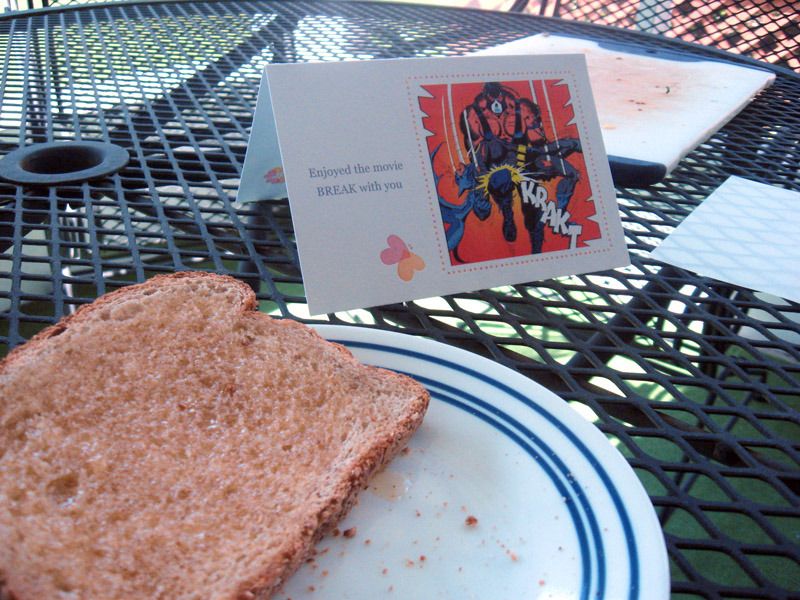 The card sent to us by Chris and Jennifer along with a scrumptious piece of toast.

And upon further inspection, we found that it may be the very best card we've ever gotten - EVER!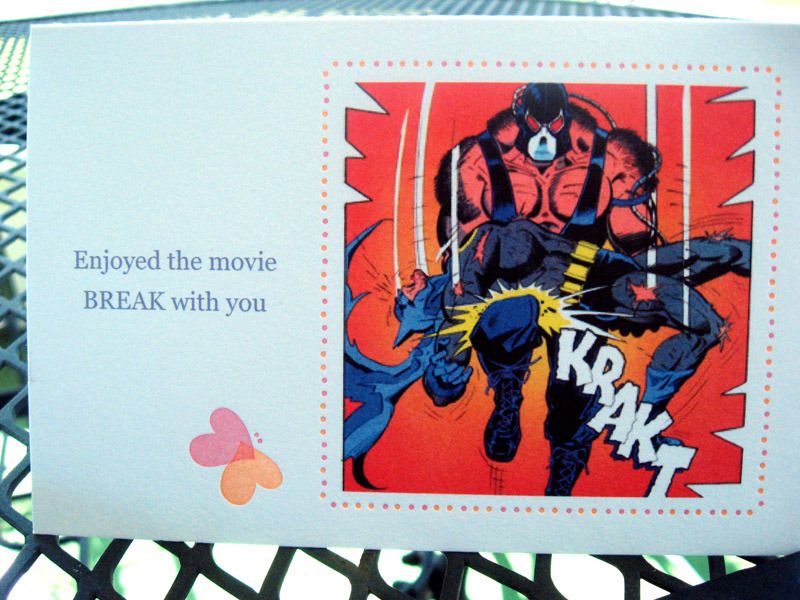 The front - EPIC! And great use of a pun. Nicely done you guys!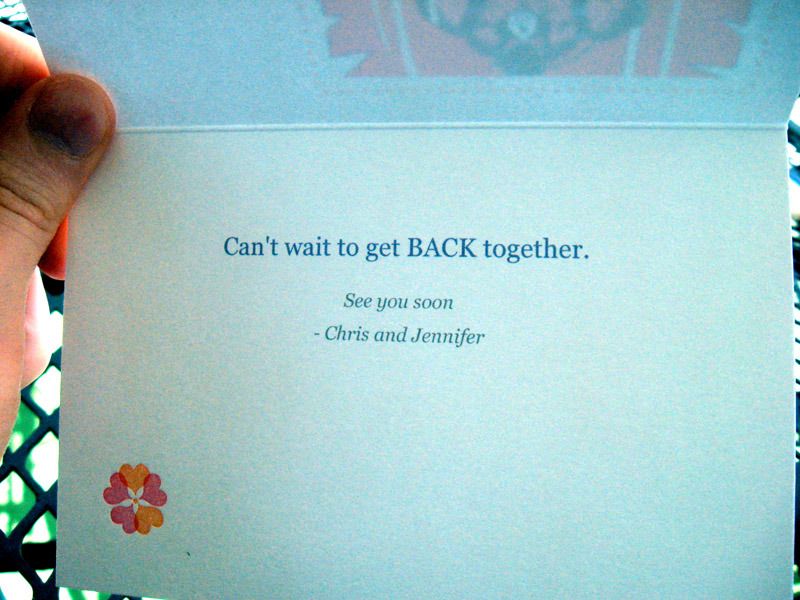 ...and the inside.

We hope you can see why these guys are out best friends. And we only hope that all of you may someday get a card in the mail half as spectacular as this one.

Well, with that, we're calling it for today and heading off to Summit City! Catch all you crazy cats later!
Comfort & Adam