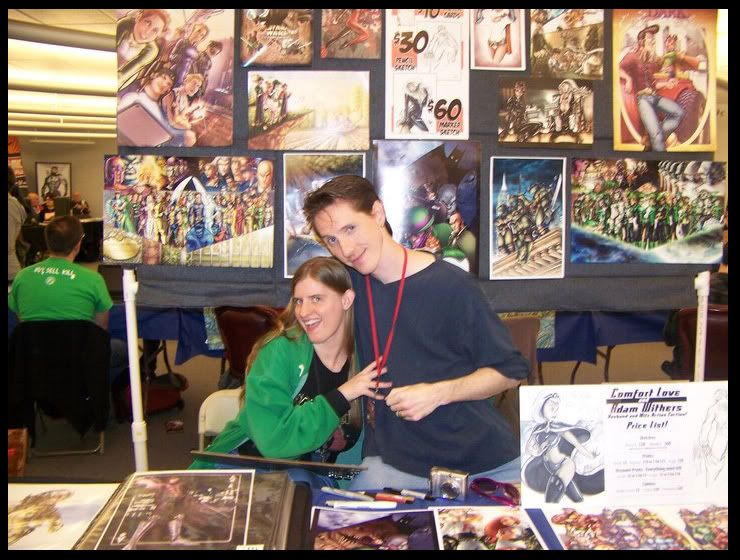 Well, we're finally able to settle in for more than a couple days, as we've got our first weekend without a con in weeks and weeks and weeks. It's tiring and we're exhausted both physically and mentally, but we're still making it. Only the blog has truly suffered. Sorry bloggie. That said, let's jump back a couple weeks and we'll finally get you the skinny on one of our favorite cons of this or any year, the Comic Geek Speak Super Show! Drawings throughout – here we go…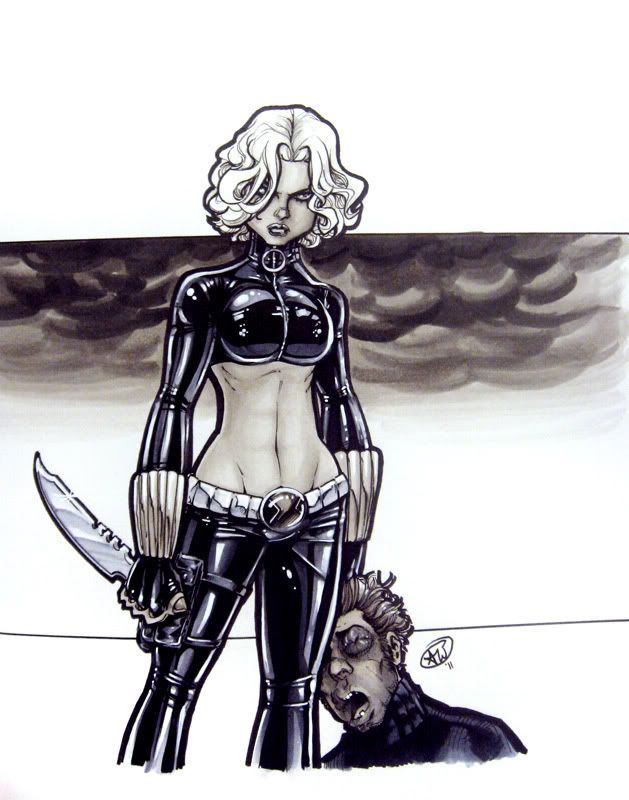 Black Widow by Adam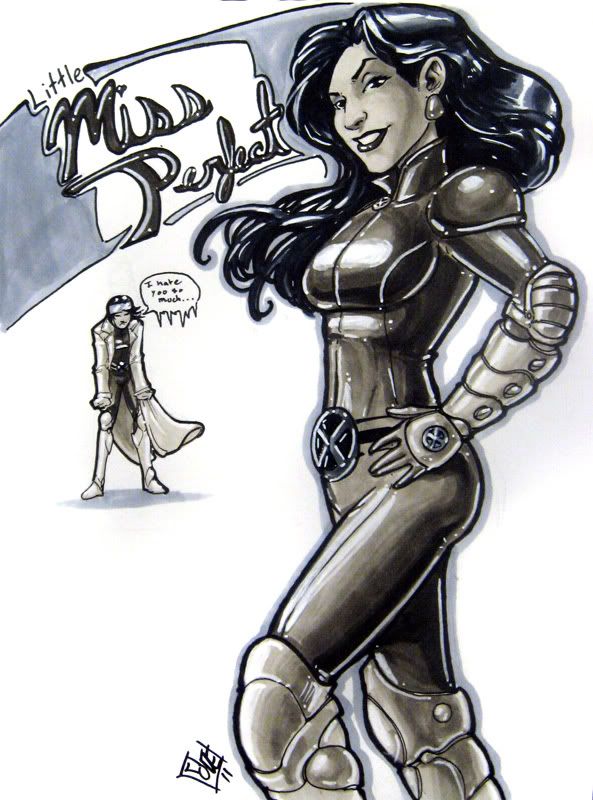 M by Comfort

We drove out to Reading, PA on a two-day trip, arriving Thursday in the early afternoon. When we have the time to make the 8+ hour drives in two days, we like to. The expense of a ~$40 hotel room stay for a night is easily outweighed by not having to feel rushed or exhausted or just fed up with the car. Plus, rolling into the con feeling rested and happy is well worth it. We set up at the show, retired to our hotel for a while, grabbed a bite to eat at what turned out to be a delicious Japanese place next to our hotel, and then mosied on over to the Third & Spruce café for the convention pre-party gathering.



The Super Show

is more like a gathering of friends for a weekend celebration of making, reading, and loving comic books. Everybody knows everybody, and if you're new to the community you're welcomed in like an old friend. It's part of why we love it so much. And after a few years, it's feeling like the Cheers bar for us; we walked into the pre-party and everybody shouted "Norm!", then the audience applauded, and we went on with the scene. Or something like that.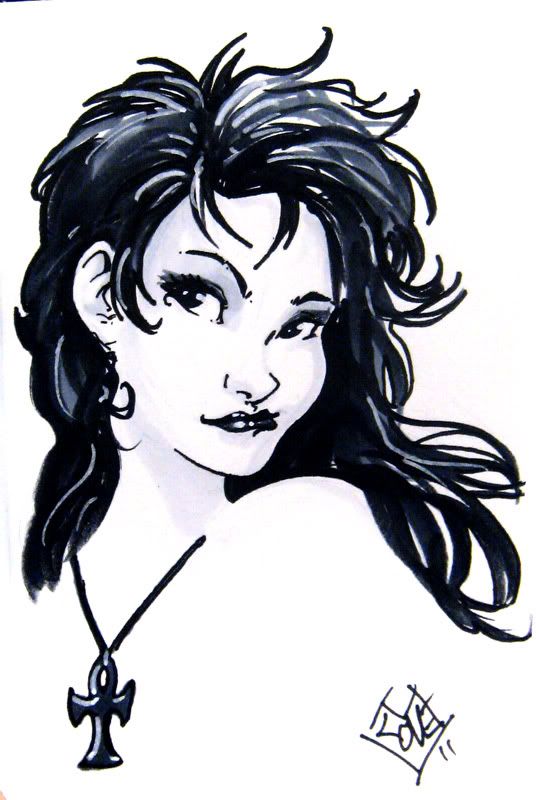 Death & Wonder Woman sketch cards by Comfort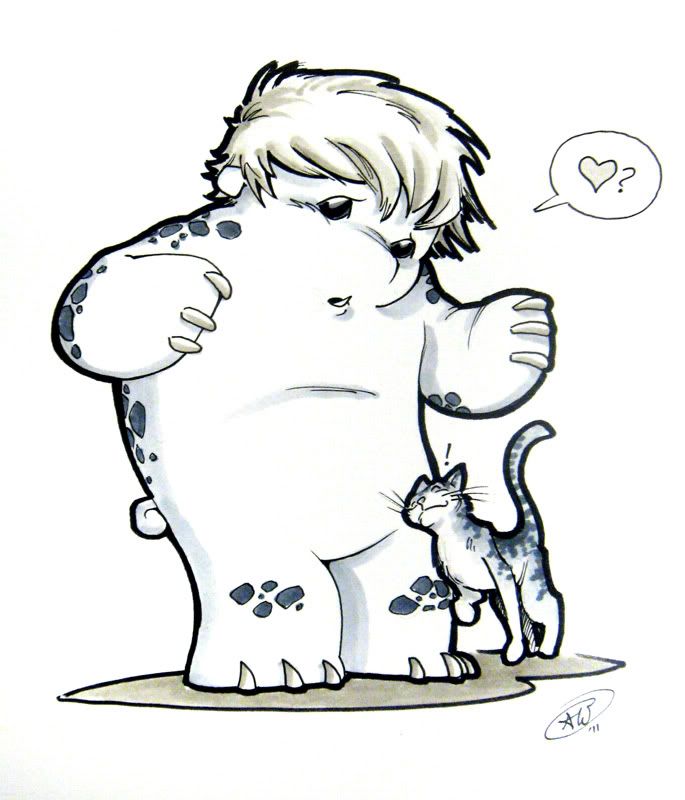 Katie Cook's Gronk & our cat Obi-Wan by Adam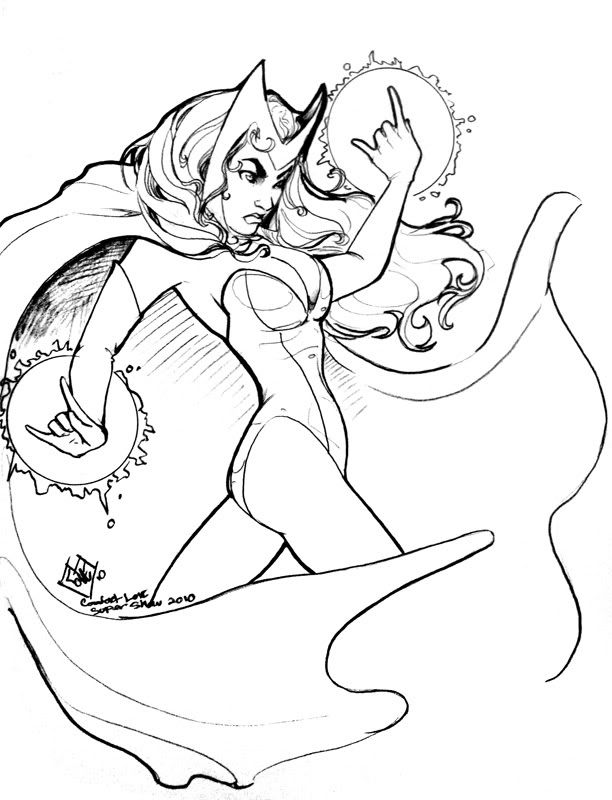 Scarlet Witch by Comfort

We spent most of the night talking with Chuck and John from

Comic Related

. They're two of our favorites, but honestly when we're talking about CGSSS we're talking about rooms full of our favorite people, so yeah. We had some nice conversation talking about all kinds of things related to comics. Oh! Comic Related! We just got that! Heh.

After that, we tucked into the CGS Jam Piece. In our constant effort to beat past performances, we really cracked down on these drawings, and they gave us the honor of putting in the show logo and building the center of the piece. Prett–tee Sweet. We were really happy with how our parts came out; Adam drew Raina wailing on a bass guitar and Comfort drew Telepath just being ready. The jam piece as a whole was the best we've ever seen. The guy who won it in the show's raffle really walked away with a winner.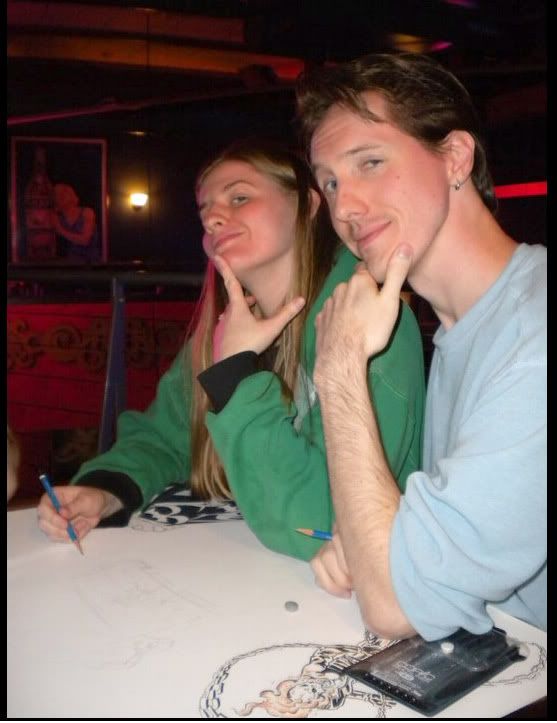 Workin' on the Jam Piece side by side. Ain't we cute?



Our part of the Jam Piece...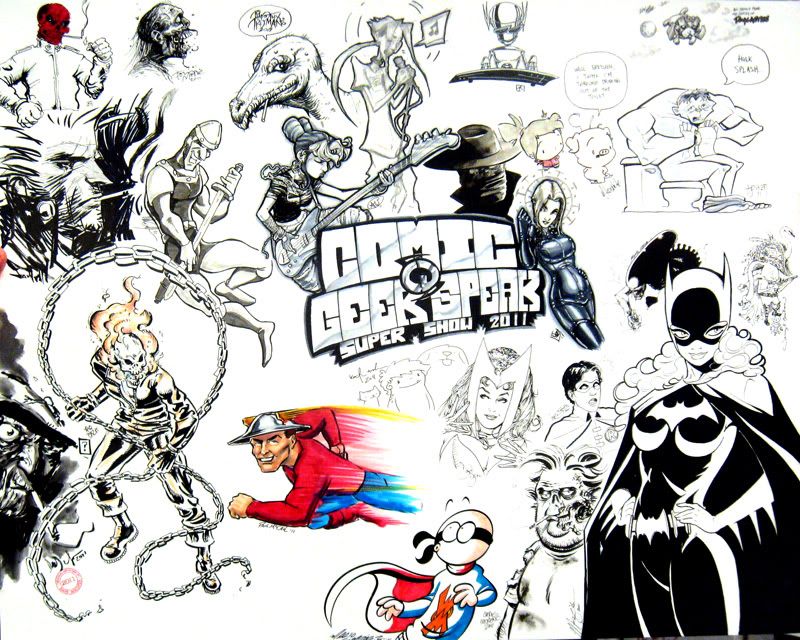 And the completed work in all its glory!

The show started on Saturday, and we were hit by a deluge. It was hard to be prepared for, honestly. And even though we had done pre-orders for sketches and had drawn quite a few before the show started, we were still logjammed with drawings to finish. Marker was a popular choice, and we're happy with how our skills with the Copics are progressing. We were moving comics like mad, and managed to completely sell out of

Rainbow in the Dark vol. 1

fast enough that our heads were spinning. We got a huge response for Uniques Tales as well, which was really rewarding. We worked really hard to put that together, to say nothing of all the painstaking effort our beloved UT Contributors put in.

This was the first time we were at a con where so many people bought things from us just because WE had made them. People would come up and say "what's the new thing you've got?" and before we could even describe them, they were already sold. It was amazing. This is a show that reminds us that all our work and exhaustion and the long, long days and sometimes sleepless nights are all actually moving us forward. Slow as it may be, we are progressing toward our goal, and that means we may just be able to spend our lives making comics and telling stories and sharing them with people. We couldn't ask for anything better.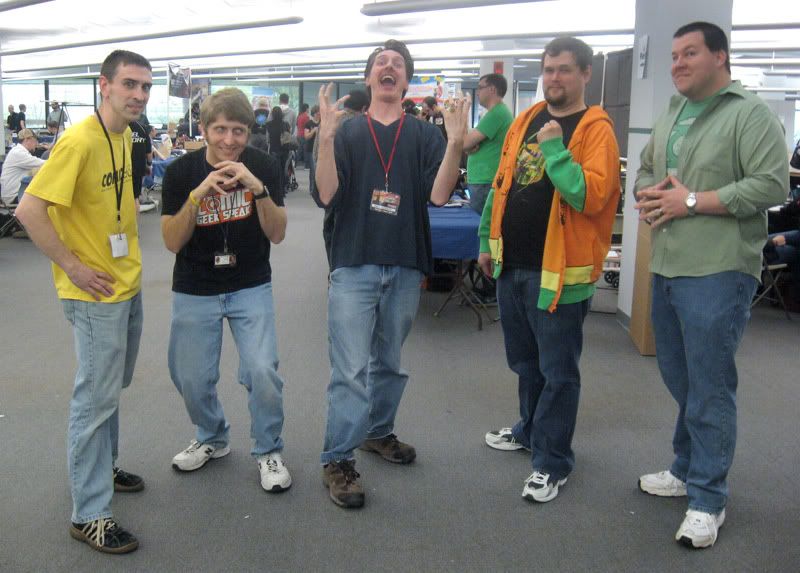 The first full meeting of the League of Adams. Five full Adam's is enough to constitute a League, right?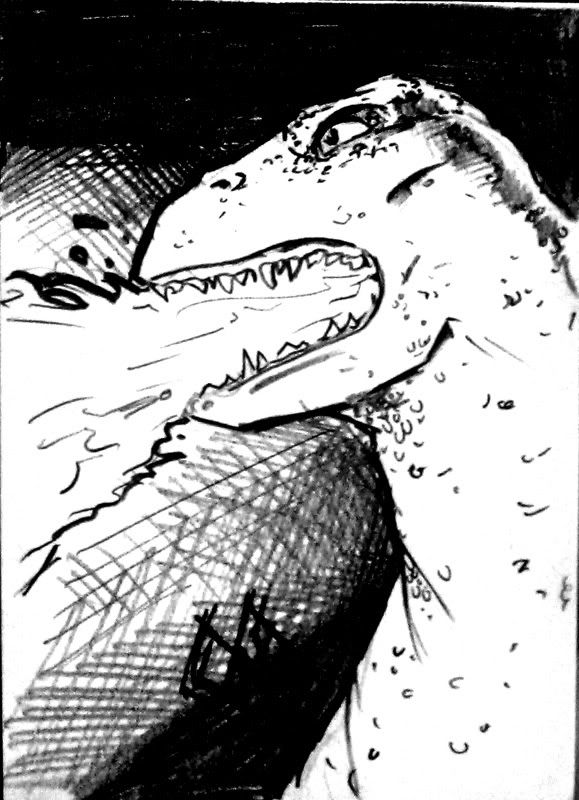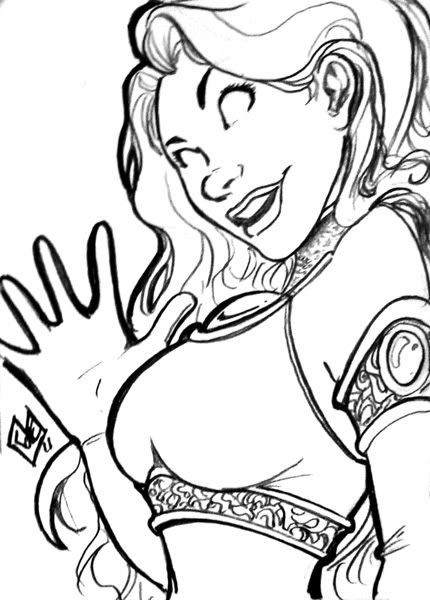 Godzilla and Starfire sketch cards by Comfort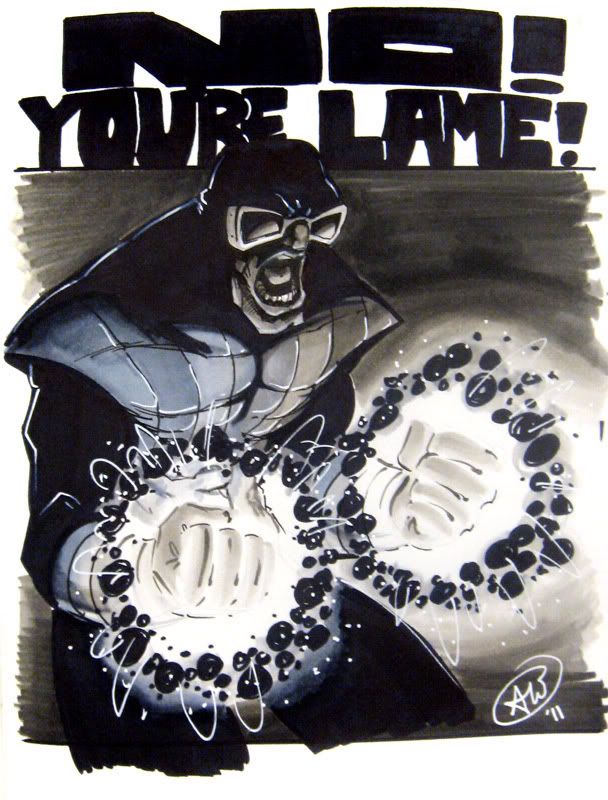 A Bad-Ass version of Rainbow Raider by Adam

We went out to eat that night with a table full of great, great people. Bryan and Judy Glass were sharing a hotel room with us for the weekend, a first for Judy, and they joined us for a meal despite exhaustion from getting their new house in order. They hadn't even arrived in town until late the last night, and were doing their best to be animated and alert in spite of it all. Also with us, our West Coast BFF's Josh Finney and Kat Rocha, who we can't see nearly enough. Add in a dash of

Chandra Free

and Drew Gaska for flavor, and a side garnish of Mike Colbert to make us all look pretty, and you have a pretty rocking dish of delish. We talked, we ate, we sushied, we had a great time. There are people you meet and though you've only known them a short time, you feel and interact as though you'd been friends forever. These are those kinds of friends, and we're lucky to have them.

Saturday night found us back at Third & Spruce for live music from Kirby Krackle, Super Ugly, H2Awesome, and Ten Strings of Rage. There was supposed to be karaoke, but they cancelled it because too many squares in the lower part of the bar were complaining about us having too much fun. Losers! Go rain on somebody else's parade! Booo! Instead, we spent a couple chill hours drawing with Tony frakking Moore and Chris "I'm Actually Quite Tall" Moreno. Take that people downstairs – we're having fun no matter what you do! Could there be cooler things to do than draw pictures in the company of such great men? Perhaps. We know not what they might be.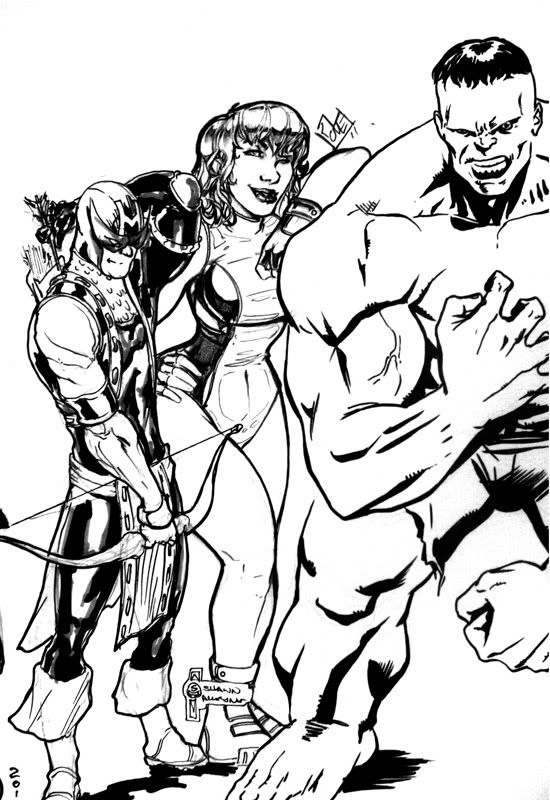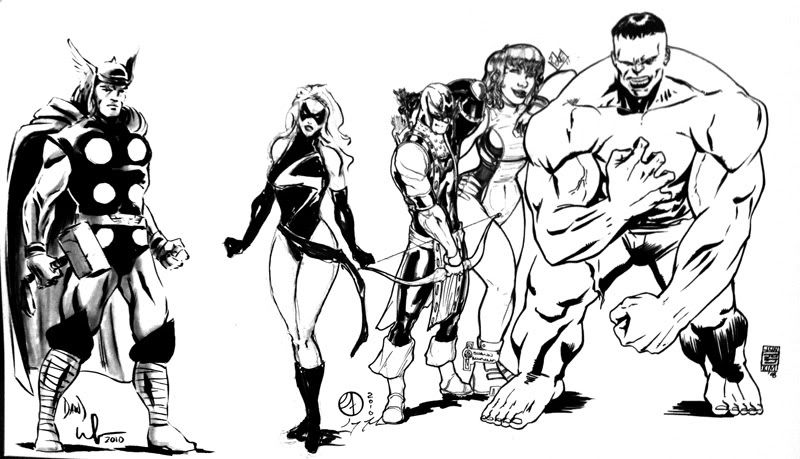 She-Hulk by Comfort, part of a bigger art jam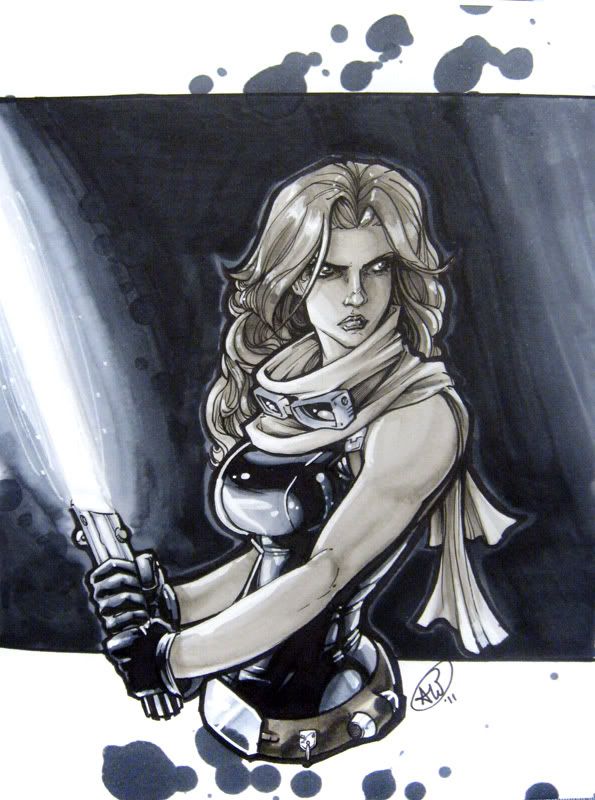 Mara Jade by Adam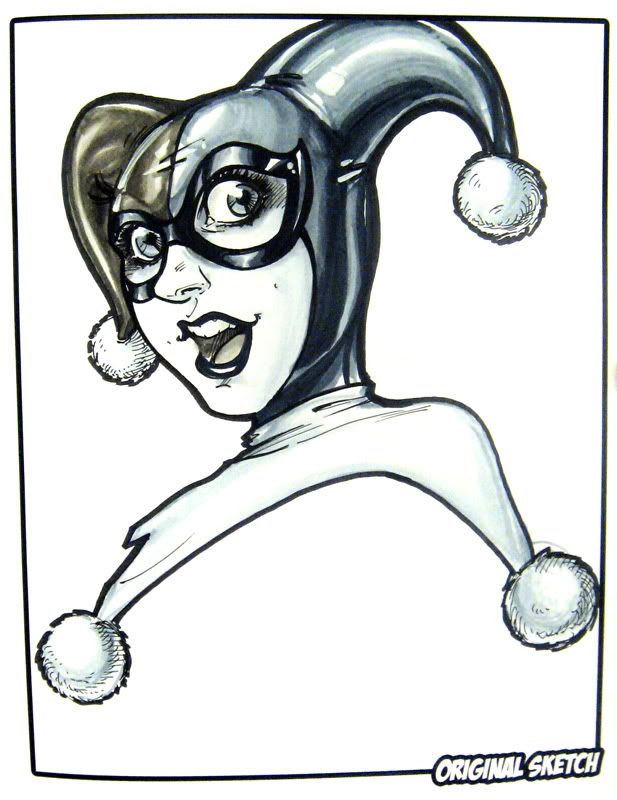 Harley Quinn by Comfort, a gift for Jamie D's awesome sister, Shana, who helped us navigate Reading when we were in desperate need. Thanks, Shana!

Sunday was another fun day at our favorite show. We got to talk comics with fans, make a few new fans, and finish some rapid-fire commissions. Speaking of Rapid-Fire, we also took part in the most fun Quick-Sketch ever. We tag-teamed with Adam taking the first half and Comfort the second, so one of us could always have the table covered while both got a chance to have some fun. Adam got to draw a Mega-Man, Harley Quinn holding a sleepy kitty (a gift for an excited little girl in the audience) and the Lone Ranger's horse Silver flying a rainbow out of an exploding planet. Yay. Comfort drew part of an X-Men group drawing, Andrew Charipar (an artist on the opposing team), and about the most obscure character you've never heard of. It was a whole lot of fun, and our team kicked butt. Lots of it. Took some names, too.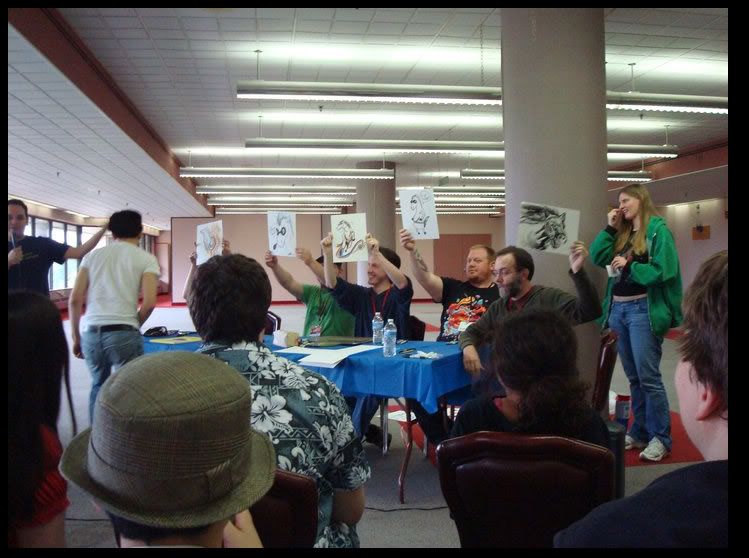 Working at the Quick Sketch, showing off our "Hi-yo Silver" sketches, right before Comfie tagged in.

Sunday night we went back out to eat again with Josh, Kat, Chan, Drew, and Mike, and went back to the SAME Japanese place. Yes. We ate there three nights in a row. But you know what, we defy you to find a decent Japanese restaurant in Flint, MI. If it ain't Applebees, Flint ain't got it. Anyway, these are people we don't see nearly enough. And they make books that are excellent! This isn't that uncomfortable thing where you really like somebody and then find out their work is crap and you have to pretend you like it anyway. These guys can really make some great stuff. You already know how much we love Josh & Kat's Titanium Rain (vol. 2 forthcoming, and we can't wait), but did you know that Chandra Free's

'The God Machine'

is a delightful and perhaps unintentionally subversive slice of fun-sad gothy yum? Or that Drew Gaska's

Critical Millenium

might be the best sci-fi comic we've ever read, designed to blow your mind and leave you a puddle of wow on the floor? Or that the collaborative brilliance of Josh and Mike Colbert is about to give birth to World War Kaiju, which just may be the most fun concept we've heard this decade? DID YOU??!!1/?!!!ELEVEN!!/!?!!? Well now you do. Read these books, you will be glad you did, and you'll thank us. You will. Or you're a jerk. (not really, we still like you, but come on!!!)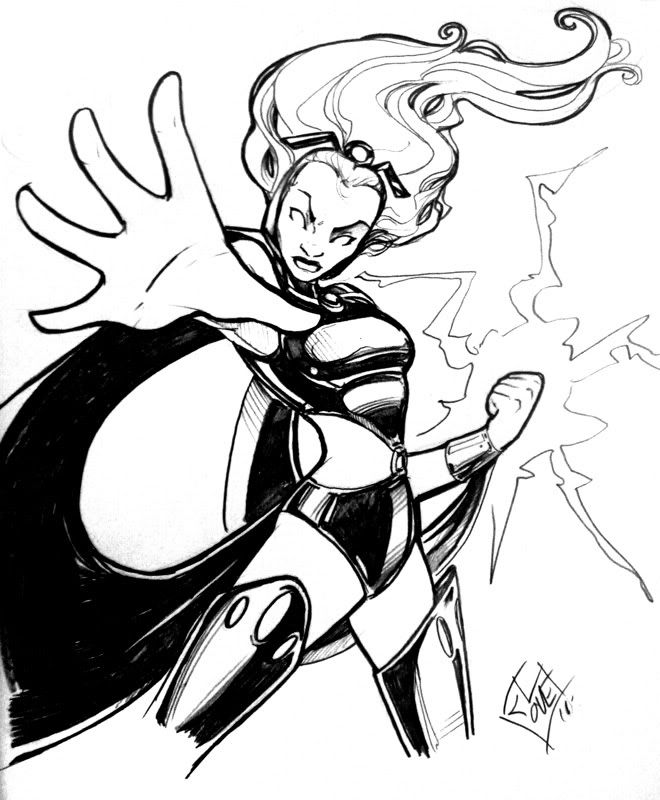 Storm by Comfort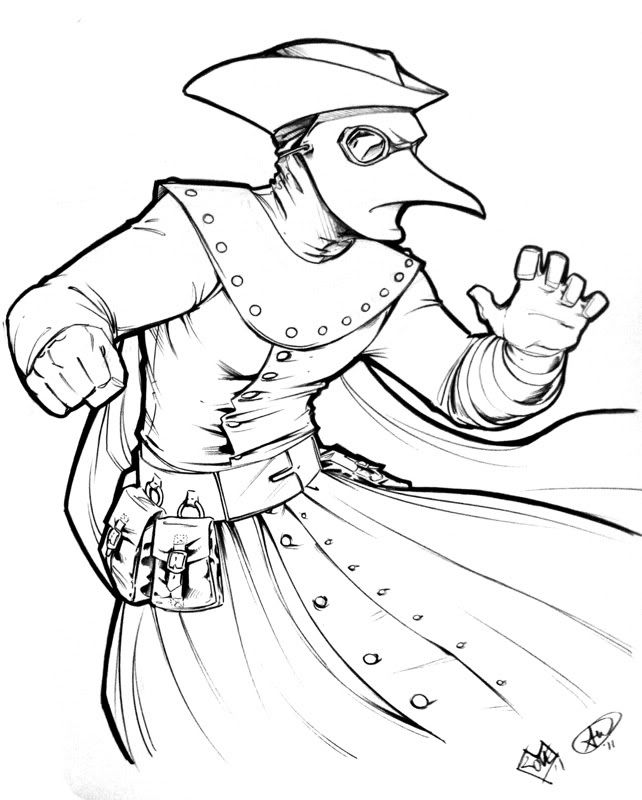 Assassin's Creed by Adam & Comfort

We all retired to Bryan Deemer's humble abode for the post-party chillaxin' fest, where we unwound and talked comics, conventions, and tv with some fun people. Adam2 (Withers & Murdough) got to catch up briefly, though the day will come when a full-on hangout session will commence. Shot the breeze with Peter Rios and "Citizen" Dave Wachter. Adam had a long, deep discussion with Mike about the symbolism running through Tron: Legacy and why it's a great, great film. Meanwhile, Comfort talked to a whole slew of people. That's our Comfie – working the room like a pro. Isn't she cute? ("I am!").

Before it got too late to stand, we hit the road and drove to Philladelphia where we met with Bryan and Judy and got to spend three wonderful days at their new house. It was still in the midst of getting the floors refinished and the moving-in process hadn't quite finished, but the place is fantastic. It's going to be the perfect home for them, and we can already see the potential of what's to come. We couldn't be happier for them as they finally get to settle into a place of their own after so many years of work.

It did us a world of good to have those days, drawing and talking about stories and ideas and watching classic movies and playing the slightest bit of Rock Band. We needed a repose like that in the worst way, and even though Comfort wound up coming down sick before we went home, we loved every minute. In the crazy weeks that followed, doing show after show back to back with no breaks in-between, those days of rest with friends in Philly were like an oasis in the desert.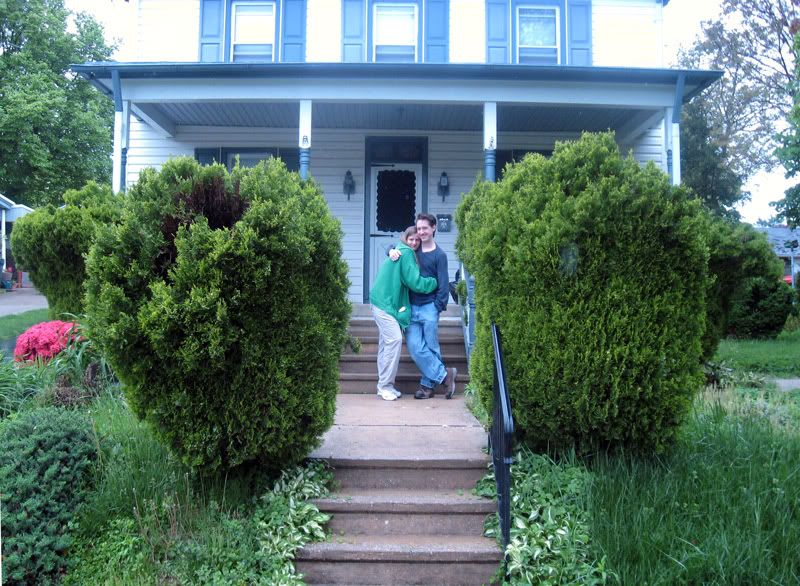 Us at the doorstep of the House of Glass.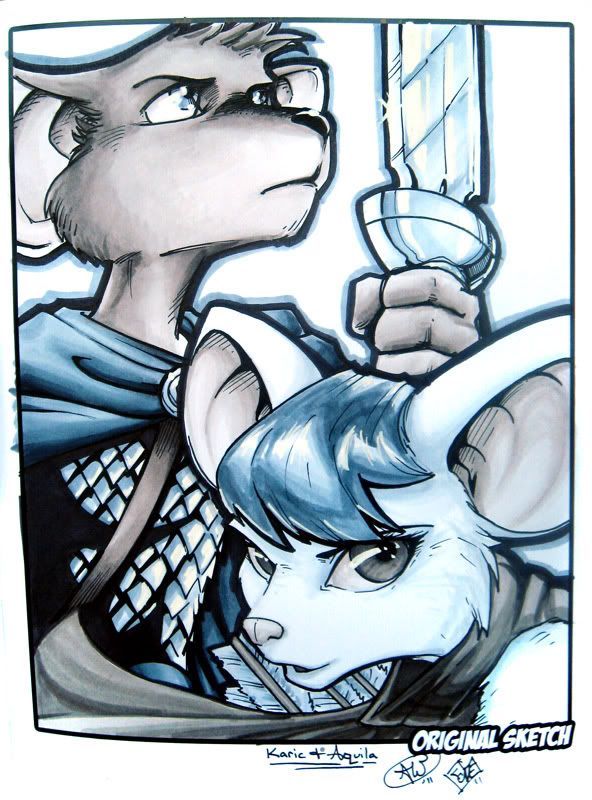 Karic (by Adam) and Aquila (by Comfort) of The Mice Templar, a gift for Bryan for being such a dear friend.

So before we go, thank you everybody. Thanks to our dear friends for being so great and so much fun and for enriching our lives just by being around. Thanks to the CGS guys for being awesome and working so hard to provide all of us with both your podcast and your mini-con. Thanks to the fans for being a blast and for making the weekend so enjoyable for everybody that was there. Your enthusiasm, good spirit, and general "we love everybody" attitude made this show what it is – the best convention anywhere, anytime.

Be back soonish for a recap on Free Comic Day and other miscellany-
Adam & Comfort